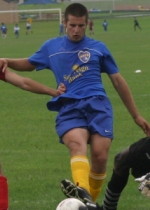 Former Jersey Shore Boca soccer club standout Nick Gkionis has reached an agreement to play professional soccer with MEAP Nisou of the Cypriot Second Division in Cyprus and left the US today to begin an intense preseason training regimen when he arrives with the team. He becomes the third player from Boca's college class of 2007 to advance to the professional ranks this year.
Gkionis Signs Professional Contract in Greece
Boca alum to play with Cyprus-Based MEAP Nisou of the Greek Second Division
LAKEWOOD, N.J. (July 10, 2007) – Former Jersey Shore Boca soccer club standout Nick Gkionis (Jackson, NJ) has reached an agreement to play professional soccer with MEAP Nisou of the Cypriot Second Division in Cyprus.
Gkionis a recent graduate and four-year starter for Stevens Institute of Technology in Hoboken left the United States today and will begin an intense preseason training regimen when he arrives with the team and will include a 10-day stop in Europe.
The Cypriot league, which is broken up into four divisions, officially begins in September and runs through May. The season includes intra-divisional play as well as a year-end inter-division championship cup.
Gkionis, a 2003 Jackson Memorial HS graduate, is a long-time Jersey Shore Boca veteran who competed on numerous Boca teams throughout this career including Boca's youth club teams, Super-Y League teams and U20 and U23 teams,
Throughout his career at Stevens, Gkionis developed into one of the most talented players in program history. He capped his senior year off by being named a first-team All-American by the National Soccer Coaches Association of America.
Gkionis was also a D3Kicks.com third-team All-American as he helped lead Stevens to its fourth-straight NCAA Championship Sweet 16 appearance in 2006. Over the course of his four years in a Ducks' uniform, Stevens captured four Skyline Conference titles and did not lose a single home game.
"On behalf of al of our coaches and staff, we wish Nick the very best of success in Cypress. He has developed into an outstanding player and should do very well overseas. He is a typical tough-nosed, American-type central defender who can read the game very well. He was always a pleasure to coach" mentioned Walt Konopka, a member of the Jersey Shore Boca Board of Directors who coached Gkionis throughout his Boca career.
Gkionis makes third player from Boca's college class of 2007 to advance to the professional ranks in 2007 as he joins Club standouts, Chris Konopka (Toms River), former goalkeeper from Providence College and Teddy Niziolek (Clifton), former midfielder from Seton Hall University who were selected respectively by the Kansas City Wizards and Columbus Crew of Major League Soccer in the Major League Soccer 2007 Supplemental Draft held in January.
Konopka has since signed a professional contract with the Wizards while Niziolek continues to negotiate his contractual options with two MLS teams, Columbus and Red Bull New York.
Jersey Shore Boca had over fifty club standouts, including Gkionis, Niziolek and Konopka, who previously played for Boca on either their Men's, Super Y-League, PDL, Club or Youth teams that participated in NCAA intercollegiate soccer last year for their respective institutions across the Unites States either as players or coaches.
Jersey Shore Boca has been a fixture in the soccer community since 1978 and is one of the most respected soccer clubs on the East Coast.
The Club is celebrating their 29th year of existence in 2007.
For more information on the Jersey Shore Boca Soccer Club visit the Club's official web site at www.jerseyshoreboca.com
news