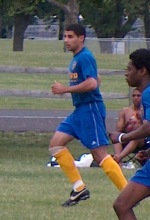 George Gkionis helped the Boca U23 men's team to thier first win of the 2006 summer season Sunday afternoon at Fort Dix while participating at the MSSL opening day season kick-off festival. Boca defeated FC Millennium 2-1 in the first game of the day while playing to a scoreless tie against Greater Valley United in the nightcap.
Gkionis Tabs Game Winner for Boca U23s
Team starts 2006 summer soccer season with win and tie
FT DIX, NJ (June 4, 2006) – The Jersey Shore Boca U23 men's team started their 2006 summer season Sunday afternoon with a win and tie at Fort Dix while participating at the Mid-Atlantic Summer Showcase League (MSSL) opening day season kick-off festival.
In the first match of the day, Boca squared-off against a physical FC Millennium side from Lancaster, PA.
In the twenty-first minute the Boca U23s tallied their first goal of the day as Mark Schmiegel (Toms River) won a ball on the left side about 35 yards out and beat a defender down the left side.
Schmiegel, who started all 18 games for Bucknell University last year as a freshman, served a wide ball to a streaking Jay Mancuso (Toms River) who buried the shot to the far post for the only score of the half.
After Boca gave-up an own goal mid-way through the second half off a corner kick to make the score even, George Gkionis (Jackson) found himself with the ball at this feet on the right side just outside the box after the Millennium defenders failed to clear a shot.
The Stevens Institute of Technology senior moved to this right and ripped a sixteen yard blast that caught the goalkeeper leaning in the wrong direction to record the game winner with about five minutes remaining to play.
Saint Rose High School graduate Jon Curry-Edwards (Spring Lake Heights), who recently transferred from Old Dominion University to the University of Delaware, played a solid game between the pipes for Boca to help secure the win.
In the nightcap Boca took the pitch against Great Valley United (Allentown, PA) and did everything but put the ball in the back of the net.
Although Boca dominated possession for most of the match and out-shot Great Valley 20 to 5, the game finished 0-0 with Providence College senior Chris Konopka (Toms River) picking-up the shut-out in goal.
MSSL is a third year regional soccer league fostering high-level competition during the summer months at both the youth and adult ages in both men's and women's divisions.
The adult level of MSSL is specifically designed for collegiate players under the age of twenty-three and is fully sanctioned by the United States Adult Soccer Association (USASA), the national governing body for adult amateur soccer.
Boca will play a 12 game regular league schedule which ends on July 30th with the awarding of the MSSL Cup.
The Jersey Shore Boca men's summer soccer program is officially sponsored by Surf Taco, a popular Mexican themed restaurant chain with locations throughout the jersey shore.
Boca has been a fixture in the soccer community since 1978 and is one of the most respected soccer clubs on the East Coast.
The Club is celebrating their 28-year anniversary in 2006.
For more information about the Boca U23 team and all other the Jersey Shore Boca programs logon to the Club's official web site at www.jerseyshoreboca.com
news