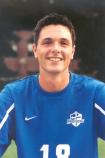 Jersey Shore Boca goalkeeper Chris Konopka helped the Providence College men's soccer team play to a 2-2 double overtime tie with 20th-ranked, cross-town rival Brown University on Tuesday night at Brown's Stevenson Field.
Goalkeeper Makes The Most Of His Opportunity
Helps Providence College tie nationally ranked Brown University
PROVIDENCE, R.I. (October 14, 2003) — The Providence College men's soccer team played to a 2-2 double overtime tie with 20th-ranked, cross-town rival Brown University on Tuesday night at Brown's Stevenson Field.
PC's freshman goalkeeper Chris Konopka (Toms River, NJ) robbed Brown's Jeff Larentowicz (West Chester, PA) of the game winning goal when he stopped his penalty kick attempt with 21:22 remaining in regulation time, which proved to be the difference in the match.
Brown (6-3-1) who is currently ranked #20 in the nation by the NSCAA, tallied the first goal of the game when their senior captain and leading scorer Adom Crew (Columbia MD) scored at 31:55.
It appeared that Brown would hold a one goal lead heading into halftime until Providence sophomore Derek Nobrega (Cumberland, RI) took a looping cross from senior Greg Bennett (Dublin, Ireland) and volleyed the ball high into the top left corner of the net with 25 seconds remaining in the first half.
Brown regained the lead at 63:01 on a goal by Larentowicz off a deflected corner kick.
The two teams battled before Providence's Jeff Smith (Omaha, NE) scored the tying goal at 82:44.
Konopka, who was making his first collegiate start in goal, kept Providence in contention throughout the full 110 minutes of action.
He finished the contest with five saves, including a spectacular tip over the crossbar with less than 2 minutes left to play during the second overtime period.
Konopka is a 2003 Toms River East High School graduate and was a three year varsity starter for Coach John Crowley.
He was named one of the top 3 high school goalkeepers in New Jersey as a senior receiving All-American, All-State, All-Shore and All-County accolades.
Konopka is also a current member of the US Region I Under-19 Olympic Development team and a long-time member of the Jersey Shore Boca soccer club.
He was also a member of Boca's 2003 Premiere Development League team and Super Y-League teams in 2002 and 2001.
Providence (5-5-2 overall and 3-2-1 Big East) is currently tied for fifth place in the Big East Conference men's soccer standings.
The Friars return to action on Saturday, October 18 against Big East opponent Pittsburgh at 1:00 p.m. at PC's Glay Field.

news