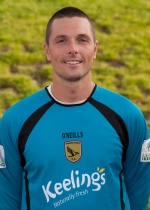 JSB alum Chris Konopka has put pen to paper and will continue his professional soccer career in Ireland for a second straight year as the Toms River native has joined the Dublin based Sporting Fingal FC which competes in the League of Ireland First Division. The former Boca standout spent last season with Bohemians FC of Dublin winning the Irish Double with the 2008 League of Ireland Premiere Division and FAI Cup champions.
Goalkeeper Returns To Ireland
Boca alum inks deal with Sporting Fingal FC
DUBLIN, Ireland (August 28, 2009) – Former Jersey Shore Boca standout Chris Konopka has put pen to paper and will continue his professional soccer career in Ireland for a second straight year as the Toms River native has joined the Dublin based Sporting Fingal Football Club of the Irish First Division until the end of the 2009 season.
Sporting Fingal was established in late 2007 as part of the Fingal County Council Football Development Plan and became licensed to compete in the League of Ireland First Division in 2008.
Fingal finished a credible third place in the club's first season in senior football and are currently only six points adrift of the top spot in the First Division and challenging for promotion to the Premiere Division.
Sporting has also secured a spot in the quarter-final round of the 2009 Football Association of Ireland (FAI) Ford Cup and will host the Shamrock Rovers in early September.
Former Republic of Ireland international Liam Buckley, who was on the books of Spanish giant Racing de Santander early in his playing career, is the first team manager while John Devine, capped 30 times for the Republic of Ireland who also appeared in 111 matches for Arsenal of the English Premiership from 1974-1983, is Fingal's first team coach.
League of Ireland veteran goalkeeper and former Shamrock Rovers standout Robbie Horgan directs the Fingal goalkeepers.
The club's home venue is Morton Stadium which is located in the Northern suburbs of Dublin.
Konopka, who was recently cleared by the FAI to officially join the club, made his debut for Sporting on Sunday August 23 in a League of Ireland A-Championship match away at Shamrock Rovers in a windswept Tallaght Stadium which the North Dublin side lost 2-1 in a hard-fought 90 minutes.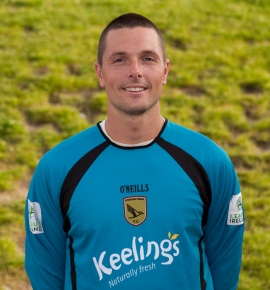 Former Jersey Shore Boca goalkeeper Chris Konopka, shown in his new team jersey, will continue his professional soccer career in Europe for a second year as the Boca Alum has joined the Dublin based Sporting Fingal Football Club which competes in the League of Ireland First Division. (Photo courtesy Paul Walsh Photography-Ireland).
"Robbie contacted me a few weeks ago and explained his keeper situation to me. It all sounded very interesting. We finalized the details on Saturday July 25 and I landed in Dublin on Tuesday morning July 28 and signed my contract that afternoon. My deal is until the end of this season but has the potential to be extended into the future. Everything has been done first-class." mentioned the 24 year-old Konopka.
"Sporting Fingal is well run club with a tremendous upside. My first training sessions with Liam, John and Robbie were no-nonsense and all of the players here have a great attitude. The facilities and surroundings are excellent. The team is challenging for spot at the top of the table and promotion to the Premiere Division next year. This is a very good environment for me to be in right now. I am very proud to be a part of Sporting Fingal and will try to help the team win promotion for next year any way I can. It also feels very good to be back in Ireland" Konopka finished.
Sporting Fingal's new shot-stopper spent last year with Bohemians of Dublin winning two medals with the 2008 League of Ireland Premiere Division and FAI Cup champions.
It is believed that Konopka is the first American born soccer player in history to ever win the "Irish Double".
The 6-ft 5-inch tall Konopka dressed for all but one match during the Gypsies double title run and was the Bohs steady number two keeper last year behind first choice and two-time, back-to-back "Goalkeeper of the Year" winner Brian Murphy.
Konopka made his Bohemian first-team debut on July 1, 2008 away at Derry City going the distance in the quarterfinals of the League of Ireland Cup.
He also impressed with the Bohemians reserve squad leading them to the League of Ireland A-Shield Championship game against Cork City and the League of Ireland A-League Championship final match against UCD last season.
Konopka spent his first professional season in 2007 with the Kansas City Wizards of Major League Soccer.
At the collegiate level, the New Jersey born Konopka starred for four years (2003-2006) between the pipes at Providence College in Rhode Island and finished as one of the top goalkeepers in Friar history.
In his senior year, Konopka garnered All-Big East Second Team accolades becoming only the second keeper in Friar history to receive All-League honors.
He capped his college career by becoming the first player from Providence College to be drafted by a Major League Soccer team when the Wizards selected him in the 2007 MLS Supplemental Draft.
A long-time Jersey Shore Boca Soccer Club veteran, Konopka was a member of Boca's youth system, Super Y-League, U20 and U23 teams throughout his career as well as a member of Boca's Premiere Development League team in 2003.
Konopka is a 2003 graduate of Toms River East High School.
The Jersey Shore Boca Soccer Club has been a fixture in the soccer community since 1978 and is one of the oldest and most respected soccer clubs on the East Coast.
The club is celebrating their 31-year anniversary in 2009.
For more information on the Jersey Shore Boca Soccer Club, visit the Club's official web site at www.jerseyshoreboca.com

news