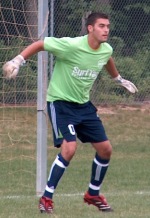 Throughout its 32 year history, Jersey Shore Boca has produced several of the finest goalkeepers to ever come from the shore area including Shaun Graul, Paul Royal, Erik Burstein, Chris Konopka and Charlie Cunliffe to name a few. Peter Mellor, USL National Technical Director and longtime professional, youth and national team coach, offers tips in this feature about what it takes to be a world-class keeper.
Goalkeeper vs. Shot Stopper
The Technical Edge with Peter Mellor
Originally published June 1, 2010 on uslcoccer.com
There is a distinct difference between the shot stopper and the goalkeeper. The goalkeeper understands that to be great, you have to do more than just stop shots. Goalkeeping is more than just saving the ball.
Dominating the 18-yard box, and in particular, the 6-yard box, is a prerequisite for today's top goalkeepers. When you recognize the need to come out for a ball in your box, do you come off your line with confidence, and determination which can be heard and seen through your voice and body language?
The shot-stopper thinks their communication is only yelling or screaming when there is a cross coming into the box. This call is usually either 'keeper's' or 'away.' The goalkeeper knows that good quality communication has more content. You must be able to read the game, which allows you to make positional adjustments and to also stay connected to your defensive unit, giving clear, precise instructions and encouragement. Domination of the penalty area will result in giving your team the advantage of dictating the defensive play, and in most cases, forcing the opposition to play in front of the defense. An attacking team will then have to adjust its game tactically to try and get behind your defense.
There are other ways that you, the goalkeeper, can affect the game once you make the catch or make the save.
As the goalkeeper you are the last line of defense and also the first line of attack, so distribution is a key strength in your game. You must be able to distribute the ball with both hands and feet so that your team keeps possession. Your actions must also make tactical sense for your team considering where you are in the game (winning, losing etc.).
The shot-stopper frequently loses possession due to their lack of technical ability during back passes, which are no problem for the goalkeeper who is comfortable in playing one or two touch with either foot. As a goalkeeper, you must continue to develop your touch with both the left and right foot when balls are played back to you by your own team. Can you, the goalkeeper, recognize and execute when a quick counter attack is available? Is your distribution accurate to start a counter attack?
When you, the goalkeeper, develop these strengths, you develop confidence and a presence in their game. You will also give your defenders confidence in playing balls back to you. Does Edwin Van der Sar, Manchester United's goalkeeper, have a presence? Of course, his presence creates pressure on the opponent to bring their elite performance to the game. He has so many abilities – his technical ability, his winning performances – he is the complete goalkeeper. Forwards are scared; they don't want to play against him!
The shot-stopper can make saves and that quality is very important. However, the technically- and tactically-aware goalkeeper is much more valuable to their team.
You must strive to have a complete game, not just save shots, and be able to tactically organize and deny the opposition the privilege of a shot!
Peter Mellor is the current USL National Technical Director and a longtime professional, youth and former US National Team goalkeeper coach.
news