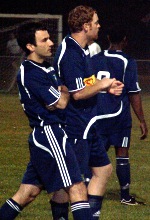 Player-coaches Christian Treney and Ryan Applegate have led the Boca men's open team to an overall record of 18-2-4 during the 2007-2008 season, one of the best ever in club history, which concluded last Sunday at the Manalapan Recreation Complex with a 5-2 win over Sporting Club Portugal from Newark and the capture of the GSSL League Cup title.
GSSL League Cup Champions…!
Boca men capture GSSL League Cup
MANALAPAN, NJ (June 29, 2008)-After Jason Mancuso (Toms River) tallied the first goal two minutes into the Garden State Soccer League Cup Championship against Sporting Club Portugal from Newark, the Boca men's open team never looked back as they cruised to a 5-2 victory to claim the GSSL League Cup title at the Manalapan Recreation Complex Sunday afternoon.
Mancuso, a long-time Boca club veteran and York College of Pennsylvania standout, added a second tally along with Boca's Tomas Banionis (Berkeley Township), Ryan Applegate (Berkeley Township) and Christian Pontier (Forked River) to round out the Boca scoring.
Jim Keady (Belmar), a former professional in the USL with the North Jersey Imperials and former assistant coach at St. John's University was solid between the pipes for Boca throughout the match allowing only a penalty-kick and one other tally during the full ninety minutes.
This is the first time in the Club's history that a Boca team has brought home the GSSL League Cup silverware.
The team finished the 2007-2008 season with an overall record of 18 wins 2 ties and 4 losses.
Boca also advanced to the NJ State Open Cup Championship this season before being narrowly defeated 2-1 by the Newark Enforcers.
Applegate, who starred at Central Regional and Rowan University and Christian Treney of Toms River East and Methodist College, directed the Boca men's team as player-coaches.
Jersey Shore Boca has been a fixture in the soccer community since 1978 and is one of the most respected soccer clubs on the East Coast.
The Club is celebrating their 30-year anniversary in 2008.
For more information on the Jersey Shore Boca Soccer Club visit the Club's official web site at www.jerseyshoreboca.com
news