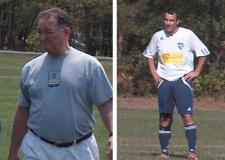 The NJSA announced today that two Boca veterans, Walt Pericciouli and Ryan Applegate, will be honored at the Association's annual awards banquet on April 25. Pericciouli, one of the original founders of Jersey Shore Boca, will be inducted into the NJSA Hall of Fame Class of 2008 while Applegate, coach of the Boca men's open team, will be honored as the 2007-2008 NJSA Coach of the Year. The festivities will begin at 6:30pm at the L'Affaire Restaurant in Mountainside with cocktails followed by dinner and the awards ceremony.
Hall of Fame Bound – NJSA Honors Boca Duo
Pericciouli inducted into NJSA Hall of Fame while Applegate named Coach of the Year
TRENTON, NJ (March 9, 2009) – The New Jersey Soccer Association (NJSA) announced today that two Jersey Shore Boca veterans, Walt Pericciouli and Ryan Applegate, will be honored at the Association's annual awards banquet to be held on Saturday evening, April 25 at the L'Affaire Restaurant in Mountainside.
Pericciouli, one of the original founders of Jersey Shore Boca, will be inducted into the NJSA Hall of Fame Class of 2008 in the Coaches Category while Applegate, coach of the Boca men's open team, will be honored as the 2007-2008 NJSA Coach of the Year.
The festivities will begin at 6:30pm with cocktails followed by dinner and the awards ceremony.
==============================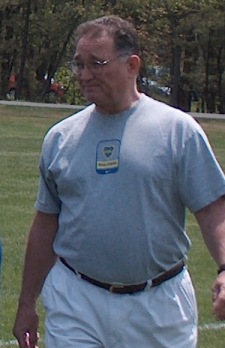 Walt Pericciouli is a United States Soccer Federation (USSF) A licensed coach who can trace his soccer heritage back to his father Wally Peters who is enshrined in the National Soccer Hall of Fame in Oneonta, NY.
Also included in Pericciuoli's family is his Uncle Foster Perry, who was a long time soccer administrator and the former Treasurer of the USSF for over 20 years.
As a player Pericciouli stared at Paterson Eastside High School and later at Springfield College in Massachusetts graduating in 1966 with a liberal arts degree. After college, he continued his playing career in several New Jersey semi-professional leagues.
Pericciouli began coaching youth teams in 1976, and in 1978, along with Phil Morretta founded Jersey Shore Boca. Pericciouli and Morretta wanted to enhance the development of the most talented players in the shore area.
Their simple idea was to recruit the top players in the area, provide superior training and compete against the very best from all around the country. Until 1978, this idea had never been tried at the Jersey Shore.
In 1979, Pericciouli began the NCAA program at Richard Stockton College of New Jersey and served has the Ospreys head coach for eleven years.
He coached 194 games from 1979 to 1989 while at Stockton and amassed an overall record of 79-93-22 while making two ECAC tournament appearances in 1982 and 1983.
Pericciouli also coached the Boca semi-professional team in the North East Super Soccer League and the NJ Champions League and was also a staff coach for several years for both the NJYSA and USYSA Region I Olympic Development Programs.
He also served as head coach of the NJ Stallions of the United Soccer Leagues in 1996 while the team was based out of Toms River North High School.
Pericciouli was the coach of one of four Jersey Shore Boca Super-Y League teams from 2001 to 2005 and was the General Manager of Boca's Premiere Development League (PDL) team in 2003.
He has also coached numerous Boca youth and adult teams during his 30 year tenure with the club and still continues to teach young players as he will be the head coach of the Boca U23/U20 men's team this summer.
The amount of players coached by Pericciouli total into the hundreds and maybe even thousands. Some of the notable names who he has mentored over the years include:
George Gelnovatch (Wall, NJ)-former assistant coach United States Men's National Team, former head coach United States U18 Men's National Team and current men's head coach of the University of Virginia
Tim Lenahan (Berlin, NJ)-former Richard Stockton College standout and current head men's coach at Northwestern University
Rick Barrett (Toms River, NJ)-standout career at Toms River South and Richard Stockton College and played for the Tampa Bay Rowdies of the NASL
Rick Lansing (Toms River, NJ)-former United States Men's National Team player from Monsignor Donovan (formerly St. Joseph's) and NCAA All-American at Eastern Illinois University
Matt Kmosko (Manahawkin, NJ)-Southern Regional High School Hall of Fame, Hartwick College All-American, former professional player with the Colorado Rapids, Columbus Crew and Miami Fusion of Major League Soccer, former US Men's National Team player
Tom Wieboldt (Brick, NJ)-Brick High School and Rider University standout, professional player with the Philadelphia Fury of the NASL, played against Pele
Paul Royal (Cherry Hill, NJ)-standout at Archbishop Ryan High School and the University of Wisconsin at Milwaukee, played professionally with the Milwaukee Wave and Philadelphia Kixx, current head women's coach at LaSalle University
Shaun Graul (Toms River, NJ)-former professional player with the NJ Stallions of the USL, one of the top goalkeepers to ever come out of the shore area, played at Toms River East then Kean University
Kirk Pericciouli (Bayville, NJ)-former professional player with the NJ Stallions of the USL, standout career at Archbishop Ryan High School and the University of Wisconsin at Milwaukee
Ed Decker (Toms River, NJ)-college All-American from East Stroudsburg University after All-State honors at Toms River East, former professional player with the Philadelphia Freedom, Central Jersey Riptide and the NJ Stallions of the USL
In addition, shore area high school and college coaches including Bobby Bechtloff (Central Regional), Dave Mitchell (Toms River North), Joe Mahon (Pinelands Regional), Gary Lindstra (Wall Township), Adam Curtis (Point Pleasant Beach), Ted Gillen (Toms River East) and Jason Asch (Ocean County College) have all been tutored by Pericciouli.
Walt and his wife Dee reside in Bayville, NJ.
==============================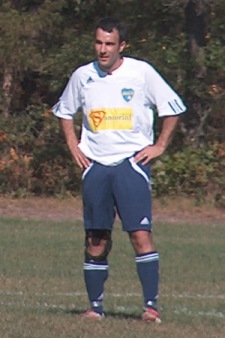 Ryan Applegate, who also hails from Bayville, has been at the helm of the Boca men's open team for several years.
After a stellar career at Central Regional High School, he was a four-year starter for Rowan University from 1994 to 1997 under head coach Dan Gilmore.
During his four years at Rowan, the Profs compiled an overall record of 63-14-5, advanced to the regional stage of the NCAA DIII tournament all four years and were nationally ranked in the top 20 in all four seasons Applegate played for Rowan.
Applegate and Rowan also captured the New Jersey Athletic Conference title in 1995 and finished that year ranked fourth in the nation in the final NSCAA polls.
During the 2007-2008 season the Jersey Shore Boca men's team finished with an overall record of 18 wins 2 ties and 4 losses making club history with the best all-around season record ever produced by a Boca adult team.
The Boca men finished in third place in the Garden State Soccer League (GSSL) semi-pro elite division in 2007-2008 with Lithuanian born Tomas Banionis leading Boca with 11 goals.
Applegate also led the Boca men to the finals of the 2008 NJ State Open Cup before losing in the championship match 2-1 to the Newark Enforcers.
And on June 22 in the last match of the season, Applegate and the Boca men defeated Sporting Club Portugal from Newark 5-2 to claim the 2008 GSSL League Cup title at the Manalapan Recreation Complex.
The Boca men shattered their opponents on their way to the Cup championship with a 5-0 record while posting a +19 goal differential.
It was the first time in the club's history that a Boca team has brought home the GSSL League Cup silverware.
==============================
Tickets to the affair may be purchased at a price of $75.00 by calling the New Jersey Soccer Association office at 609-587-9265 or 609-587-9107.
The L'Affaire Restaurant is located at 1099 Route 22 East in Mountainside, NJ.
Jersey Shore Boca has been a fixture in the soccer community since 1978 and is one of the most respected soccer clubs on the East Coast.
The Club is celebrated their 30-year anniversary in 2008.
For more information on the Jersey Shore Boca Soccer Club visit the Club's official web site at www.jerseyshoreboca.com
news