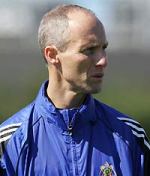 USSF President Sunil Gulati named New Jersey native Bob Bradley as Head Coach of the U.S. Men's National Team at a press conference on Wednesday afternoon in New York. Bradley, who becomes the 33rd coach in MNT history, is currently preparing the US for two major tournaments, the 2007 CONCACAF Gold Cup and the Copa America.
Bob Bradley Named Head Coach of U.S. Men's National Team
Winningest Coach in MLS History Becomes the 33rd Coach of the MNT
NEW YORK (Wednesday, May 16) – U.S. Soccer President Sunil Gulati named Bob Bradley as Head Coach of the U.S. Men's National Team at a press conference on Wednesday afternoon at the Marriott Marquis in Times Square. Bradley, who becomes the 33rd coach in MNT history, is currently preparing the United States for two major tournaments in June and July, the 2007 CONCACAF Gold Cup and the Copa America in Venezuela.
Initially named interim head coach of the U.S. National Team on December 8, 2006, the team has posted a 3-0-1 record during his stewardship while scoring eight goals and conceding only two. Bradley is the first U.S. coach to win his first three games in charge, results that included a 2-0 shutout victory against fellow World Cup finalists Mexico in front of a sold-out crowd of 62,462 in Glendale, Ariz., as well as wins against Ecuador and Denmark.
From the outset of his tenure, Bradley's decision making has demonstrated a long-term vision and shrewd planning. With 36 players earning at least one cap over the first four games (21 domestic and 15 foreign-based), he has already seen the vast majority of the current player pool first hand despite the existence of just one extended international fixture date. He has also brought U.S. Under-20 Men's National Team head coach Thomas Rongen and U-17 head coach John Hackworth into the team's training camp environment to further establish a coordinated strategy throughout the national team program.
"Bob Bradley has shown every one in the past few months just how ready he is for this job," said Gulati in making the announcement. "Every decision he has made has been about the betterment of the team, and the betterment of the program, not about 'what might be best for the future of Bob Bradley.' While it has only been a few months, you can already see those decisions paying dividends. I firmly believe Bob has the ability to take this program forward."
With 124 career victories, the 49-year-old Bradley is the winningest coach in the history of MLS, collecting one MLS Cup and two U.S. Open Cup titles with the Chicago Fire, including The Double in 1998 during the club's inaugural season. During his 12-year MLS career as a head or an assistant coach, Bradley's team's qualified for the playoffs every year. He brought his teams to the playoffs in each of his first nine seasons as a head coach, setting a record in his first year at the helm in Major League Soccer by becoming the first coach to lead an expansion team to a league championship title in their debut season. Bradley won his second U.S. Open Cup title with Chicago in 2000.
Bradley is the second head coach of the U.S. MNT to begin his professional coaching career in Major League Soccer. He had previously been on the U.S. National Team coaching staff as an assistant with the Under-23 Men's National Team at the 1996 Olympics and also assisted at several winter training camps and games during Bruce Arena's tenure as Manager of the U.S. MNT.
"I am very proud and honored to be named head coach of the U.S. National Team," said Bradley. "The work throughout this year has established a good foundation and instilled in the players the ideas that we need to carry with us in order to progress as a team. Our goal is clear: to build a team capable of being successful in the 2010 World Cup. We are off to a very good start, and I am looking forward to the challenging road ahead."
Bradley spent 2006 as head coach of Chivas USA in Major League Soccer, where he became the only coach in league history to earn Coach of the Year honors for the second time. During his one season at Chivas USA, Bradley turned around a team with the worst record in the league in 2005, leading them into the playoffs as the third-place finisher in the Western Conference.
The New Jersey native began his MLS career serving as Bruce Arena's top assistant during D.C. United's first two title-winning campaigns (1996-1997), capturing back-to-back MLS Cups (1996, 1997) and one U.S. Open Cup (1996) with the charter MLS club. In 1996, he served as Arena's assistant for the U.S. Olympic Team that qualified for the Atlanta Games.
A graduate of Princeton University in 1980 (where he led the Tigers in scoring his senior year while completing his B.A. in History), he assumed his first head coaching job at age 22, leading the Ohio University men's soccer program (1981) while finishing his M.A. in Sports Administration at the school. Hired in 1983 by Bruce Arena to serve as his assistant at the University of Virginia (1983-1984), in 1984 Bradley returned to Princeton, where in twelve seasons (1984-1995) he led his alma mater to two Ivy League titles (1988, 1993) and Princeton's only NCAA Final Four berth to date (1993).
The U.S. is preparing for a busy summer schedule that includes two major international tournaments. Beginning training camp on May 27 in Los Angeles, the USA will play a tune-up match against China on June 2 at Spartan Stadium in San Jose (tickets). Five days later, the three-time champions will begin defense of their title against 11 other teams at the 2007 CONCACAF Gold Cup, scheduled from June 6-24 in several cities across the United States. Just a few days later, the U.S. will participate in the 2007 Copa America, the regional championship of South America. The 12-team tournament will run from June 26 to July 15 in nine cities across Venezuela. For the United States, the appearance will mark their third entrance into CONMEBOL's signature event.
BRADLEY FACT FILE
Personal: Married to Lindsay, the couple has three children (Ryan, Kerry and Michael) and live in Manhattan Beach, Calif. … Attended Princeton University (1976-1980) and the Ohio University (1981-1983) … Born March 3, 1958, in Montclair, N.J. … Collegiate Soccer Coaching Career: Assistant coach, University of Virginia (1983-84); Head Coach, Princeton University (1984-1995) … Professional Coaching Career: Assistant Coach, D.C. United (1996-1997); Assistant Coach, U.S. Under-23 Men's National Team (1996); Head Coach, Chicago Fire (1998-2002); Head Coach, MetroStars (2003-2005); Head Coach, Chivas USA (2006) … Coaching Honors: MLS Coach of the Year (1998, 2006); MLS All-Star Head Coach (2003) … Championships Won: Ivy League Championship (1988, 1993); MLS Cup (1998); U.S. Open Cup (1998, 2000).
news