The Fall 2012 High School Varsity Soccer season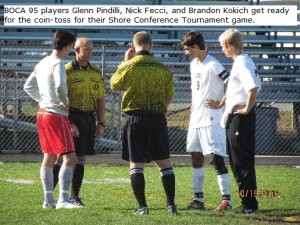 was a successful one for the boys from Jersey Shore BOCA 95, led by Point Pleasant Borough Senior Captain Nick Fecci.  Fecci finished his senior campaign with 10 goals while dishing out 7 assists.  Nick was named the Team MVP and selected to First Team "B" South (Player of the Year), First Team All-County, SecondTeam All-State and named Ocean County Star Offensive Player of the Year.
John Underwood (Senior Monsignor Donovan) had a break-out season tallying 19 goals and 5 assists.  Underwood was Monsignor Donovan's Team MVP, First Team "B" South, First Team All-County and 3rd team All-State.  John was also named All Shore Media Division Player of the Year.
Glenn Pindilli (Senior Point Pleasant Borough) was Fecci's co-captain this year.  His post season accolades include First Team "B" South, All-State Honorable Mention and All Shore Media First Team All-Division.
Also receiving All Shore Media All-Division honors were Brandon Kokich (Senior Jackson Liberty), Joe Kirchgessner (Senior Brick Memorial), Kellen O'Hara (Senior Point Pleasant Borough), Matt Bogan (Senior Point Pleasant Borough), Myles Gortva (Senior Central Regional) and Mike Dalton (Junior Monsignor Donovan).
"The BOCA 95 boys are a hard-working group of young men who certainly deserve to be recognized," says Coach Jay Staiger.  He added, "I certainly expect their success to continue heading into our Spring Season."
The BOCA 95 team will be traveling down to Williamsburg, Virginia over Presidents Day Weekend to defend their 2012 Presidents Cup Title.  This Spring the boys will compete in several tournaments along the East Coast as well as the US Club State Cup.
Jersey Shore Boca has been a fixture in the soccer community since 1978 and is one of the most respected soccer clubs on the East Coast.
For more information on the Jersey Shore Boca Soccer Club visit the Club's official web site at www.jerseyshoreboca.com.