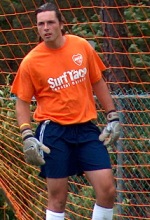 Major League Soccer announced today that former Boca club standout and Providence College senior Chris Konopka is one of fifty-eight college seniors and one of five goalkeepers nationwide invited to participate in the 2007 adidas MLS Player Combine which will be held at Lockhart Stadium in Ft. Lauderdale in January. Konopka, a long-time Boca veteran, was a member of the Boca U23 side this past summer.
Keeper Gets Invite To MLS Player Combine
Former Club Standout Headed To Florida – One of Five GKs Selected Nationwide
NEW YORK, NY (November 29, 2006) – Major League Soccer announced today that Providence College senior goalkeeper Chris Konopka (Toms River) is one of fifty-eight college seniors and one of five goalkeepers nationwide invited to participate in the 2007 adidas MLS Player Combine which will be held at Lockhart Stadium in Ft. Lauderdale, Fla. Jan. 5-8, 2007.
The coaching staffs and general managers from all 13 MLS teams will be in attendance to scout talent at the 2007 adidas MLS Player Combine, which concludes four days before the 2007 MLS SuperDraft.
The 2007 MLS SuperDraft will be held on Friday, Jan. 12, 2007 in Indianapolis, Ind. in conjunction with the National Soccer Coaches Association of America (NSCAA) Convention at the Indiana Convention Center.
The initial list of players for this year's combine was determined by a select panel of Division I college coaches representing all conferences who nominated and voted for players in conjunction with MLS coaches.
The Sheraton Ft. Lauderdale Airport Hotel will serve as the official headquarters of the adidas MLS Player Combine and the host hotel for players and coaching staffs.
Konopka, a long-time Jersey Shore Boca veteran, recently signed with FIFA Players Agent Patrick McCabe of First Wave Sports Marketing to represent him in pursuing professional soccer opportunities both here in the US and in Europe.
Throughout the 2006 college season, Major League Soccer coaches, FIFA Player Agents and European professional scouts were all seen on the sidelines during several of Konopka's games.
Recently within the past month, the standout keeper's abilities have drawn interest from both Aston Villa of the English Premiere League and Cardiff City FC, which currently sits in second place of the English Championship League and is vying for promotion to the Premiership.
During his Friar career, Konopka started in 46 of the 49 games he played over his four years at Providence and his 49 game appearances place him third all-time in most games ever played by a Friar goalkeeper behind Dan Pries (Ludlow, MA) who played in 63 games for Providence between 1995 & 1998 and Joe Crehan (Walpole, MA) who appeared in 62 games for the Friars between 1983 & 1986.
Konopka amassed 4,377 career minutes over four years, allowed 57 goals for a 1.17 career GAA, made 199 career saves, had a career save percentage of 77.7%, recorded 12 career shut-outs and finished with an overall individual record of 18-18-11.
The New Jersey native also re-wrote several of the Friar record books during his four years between the Providence pipes.
Konopka, a long-time Jersey Shore Boca Soccer Club veteran, was a member of Boca's youth system, Super Y-League, U-20 and U-23 teams throughout his career as well as a member of Boca's PDL team in 2003.
Jersey Shore Boca has been a fixture in the soccer community since 1978 and is one of the oldest and most respected soccer clubs on the East Coast.
For more information on the Jersey Shore Boca Soccer Club, visit the Club's official web site at www.jerseyshoreboca.com

news