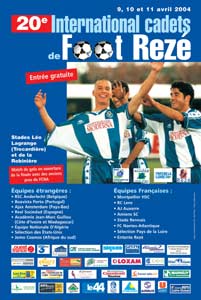 Boca GK Chris Konopka and the US Soccer U-19 Men's Regional ODP Team returned from France Tuesday but not before advancing to the semi-final round of Group B in the 20th anniversary of the "Tournoi International de Reze", one of the world's most longstanding competitive international soccer tournaments.
Keeper Helps US Regional Team Reach Semi-Finals In France
Standout GK allows only 4 goals in 7 international games
TOMS RIVER, NJ (April 14, 2004) – Jersey Shore Boca goalkeeper Chris Konopka (Toms River, NJ) and the US Soccer U-19 Men's Regional Olympic Development Team returned from France Tuesday but not before advancing to the semi-final round of Group B in the 20th anniversary of the "Tournoi International de Reze", one of the world's most longstanding competitive international soccer tournaments.
The return marked the completion the US Regional Team's successful ten day player development tour that began on April 4th from Philadelphia and featured eight international games against reserve teams of some of the top professional soccer clubs in the world.
Konopka was one of eighteen young soccer standouts from across the Northeast named to the roster of the US Soccer Regional Team for this event.
The US U-19 Regional Team competed in six international tournament games in Reze and two international friendly matches in Paris.
The US Team's two international friendly matches were against the developmental and reserve teams from Paris Saint-Germain, one of the most recognized soccer clubs in the world.
After playing their first three preliminary round tournament games in Reze, Konopka and the US Regional Team upset Real Sociedad, a powerhouse reserve team from one of Spain's top professional soccer clubs, by the score of 1-0 in a Group B quarter-final match.
The US Soccer U-19 Regional Team then squared-off in the semi-finals of Group B against Boavista Porto, another talented reserve team representing one of the oldest soccer clubs in Portugal.
After battling Porto to a 0-0 tie during regulation and overtime, Konopka and the US Regional Team lost in a FIFA penalty kick shootout 4-3, allowing Boavista to advance to the Group B finals.
In the Group B championship consolation game, the US U-19 Regional Team dropped a hard fought battle 1-0 against Region Pays De La Loire, a regional select team from France.
Amiens SC (France) was crowned the overall tournament champion from all 16 teams as they battled Academie Jean-Marc Guillou (Ivory Coast) to a 1-1 draw and then won the tournament's final game in a 4-2 FIFA penalty kick shootout before a record crowd of over 20,000 spectators at the Stadium Leo-LaGrange in Reze.
Throughout the entire ten day player development tour, Konopka played in seven of eight games while starting five for the US U-19 Regional Team.
The standout goalkeeper allowed only four goals throughout the trip, earned three shut-outs including one each against Real Sociedad and Boavista Porto and compiled an overall international record of 3 wins, 2 losses and 2 ties.
The US Soccer U-19 Regional Team was coached on the tour by Dean Foti, the head men's soccer coach at Syracuse University and Tom Lang who holds the same position at Southern Connecticut State University.
Konopka is being considered as a possible candidate for the US Under-20 Men's National Team player pool for 2004 and 2005.
This is the second time this year that the goalkeeper has been invited to attend a US Soccer identification event.
In January, Konopka participated in a week-long interregional competition with the Under-19 Region I team at the Home Depot Center in Carson, California.
Konopka is a freshman at NCAA Division I Providence College, a member of the Big-East Conference and completed his first collegiate soccer season under Coach Chaka Daley in 2003.
He played in 5 games for the Friars while starting two and helped Providence advance over nationally ranked Virginia Tech to the semi-finals of the Big East Men's Soccer Tournament for the first time since 1987.
Konopka posted a 1.63 goals against average and 72.2% save percentage as a college freshman.
He is a 2003 Toms River East High School graduate and was a three year varsity starter for Coach John Crowley.
Konopka is also a long-time member of the Jersey Shore Boca soccer club.
He was a member of Boca's 2003 Premiere Development League team and Boca's Super Y-League teams in 2002 and 2001.

news