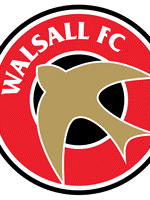 Former Jersey Shore Boca standout Chris Konopka landed Sunday morning in Birmingham, England for a three week trial with English Football League One side Walsall FC. This will be the third time within the past year that the Boca alum has been invited for a trial with an English Football Association team.
Keeper Lands Walsall Trial
Boca alum returns to UK for look by Saddlers
WEST MIDLANDS, UK (December 2, 2007) – Former Jersey Shore Boca Soccer Club standout Chris Konopka touched-down Sunday morning in Birmingham, England for a three week trial with English Football League One side Walsall FC.
Konopka spent his first year as a professional with the Kansas City Wizards of Major League Soccer who elected not to exercise his contract extension making the 22 year-old keeper free to negotiate with any other team with no transfer fee or compensation required when he signs with a new club.
This will be the third time in the past 12 months that Konopka has been invited for a trial with an English Football Association team.
Konopka impressed League Championship side Cardiff City and manager David Jones in December 2006 during a week-long visit to Wales with the Bluebirds then extending Konopka an open invitation to return once his Polish citizenship received approval.
The Jersey Shore Boca Soccer Club veteran also received keen reviews in February when he trialed for 10 days with Charlton Athletic then of the English Premiership under the watchful eye of Addicks manager Alan Pardew.
Walsall (24 points) currently sits in 10th place of the Football League One standings behind the league leaders Sawnsea City (31 points).
The Walsall trial was arranged by Konopka's agent, Patrick McCabe of First Wave Sports Marketing (Natick, MA).
Prior to his arrival in Kansas City, Konopka starred between the pipes at Providence College in Rhode Island and finished third all-time in the most games ever played by a Friar goalkeeper.
During his four years at Providence, he allowed only 57 goals for a 1.17 career GAA, made 199 career saves, had a career save percentage of 77.7% and re-wrote several Friar records along the way.
The 2003 Toms River East High School graduate became the first player ever in Providence College history to be drafted by any Major League Soccer team during the league's 12 year history when the Wizards selected him in the 2007 MLS Supplemental Draft.
A long-time Jersey Shore Boca Soccer Club veteran, Konopka was a member of Boca's youth system, Super Y-League, U20 and U23 teams throughout his career as well as a member of Boca's Premiere Development League (PDL) team in 2003.
Jersey Shore Boca has been a fixture in the soccer community since 1978 and is one of the oldest and most respected soccer clubs on the East Coast.
The Club will be celebrating their 30-year anniversary in 2008.
For more information on the Jersey Shore Boca Soccer Club, visit the Club's official web site at www.jerseyshoreboca.com
news