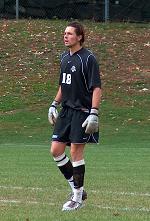 Junior goalkeeper Chris Konopka (Toms River, NJ), a long-time veteran of the Jersey Shore Boca Soccer Club, helped propel Providence College into the BIG EAST men's soccer Semi-finals this week as the #6 seeded Friars upset the #3 seeded Cincinnati Bearcats 2-1 Wednesday night in Cincinnati in an opening round tournament game and then prevailed in a penalty-kick shootout against the #2 seed and # 21 nationally ranked Seton Hall Pirates in a Quarter-final match in South Orange Saturday afternoon at Owen T. Carroll Field.
Konopka Propels Providence into BIG EAST Semi-Finals
Boca goalkeeper leads Friars in upsets of Cincinnati and Seton Hall to advance
Stops two penalty-kick attempts against SHU
TOMS RIVER, NJ (November 6, 2005) – Junior goalkeeper Chris Konopka (Toms River, NJ), a long-time veteran of the Jersey Shore Boca Soccer Club, helped propel Providence College into the BIG EAST men's soccer Semi-finals this week as the #6 seeded Friars upset the #3 seeded Cincinnati Bearcats 2-1 Wednesday night in Cincinnati in an opening round tournament game and then prevailed in a penalty-kick shootout against the #2 seed and # 21 nationally ranked Seton Hall Pirates in a Quarter-final match in South Orange Saturday afternoon at Owen T. Carroll Field.
Providence, which advances to the BIG EAST Semi-finals for the second time in three years, will play the University of South Florida in the first BIG EAST Semi-final match on Friday, November 11 at 3:30 p.m. at Storrs, Conn. The game will be televised live by CSTV.
On Wednesday night, the 6' 4" Konopka backstopped the Friars to a hard-fought 2-1 win in their opening round game at Gettler Stadium withstanding a furious Cincinnati attack that out-shot Providence 14-3 on the night. The Bearcats (10-7-2) only goal came on a converted penalty-kick in the 48th minute.
Konopka helped preserve the win for Providence with two game-wining stops in the second half, including a fully-extended diving save on a 20 yard blast by Cincinnati's Captain Matt Hayden with 30 seconds remaining in the game.
On Saturday afternoon, the 2003 Toms River High School East graduate returned to New Jersey and put on a show in his home state as Konopka made 8 saves, some of a spectacular nature, to help Providence battle #21 nationally ranked Seton Hall to a 2-2 tie in 110 minutes of regulation time and two overtime periods in front of 1,300 spectators.
In the penalty-kick shootout tie-breaker, after Eoin Lynch was successful for Providence in his first chance, Konopka stopped Seton Hall's Gordon Kljestan on his attempt.
Providence's Derrick Nobrega and Seton Hall's Sasha Kljestan each converted on the next round. Seton Hall evened the tally after Providence's Ryan Maduro sent his shot off the crossbar while the Pirates Eliseo Giusfredi made his attempt.
After Alex Bury gave the Friars the lead, Konopka came-up big for the second time and stopped Seton Hall's Christos Zisimatos' attempt.
Providence won the shoot-out when Zach Tobin put his shot past Seton Hall's goalkeeper Ian Joyce.
Seton Hall (12-3-3) was playing on its home field in the BIG EAST postseason for just the second time ever in the school's history.
Providence, which finished in sixth place in the BIG EAST Blue Division, improves their overall record to 6-3-8 as they head into the Semi-final game on Friday.
The Toms River native Konopka, who has played all 1,695 minutes between the pipes for Providence this year, has made 79 saves, maintains a 1.01 goals against average and .806 save percentage.
Konopka was a member of the Jersey Shore Boca U20 team this past summer that advanced to the semi-finals of the USASA U20 Regional Championship as well as the semi-finals of the MSSL Cup Championship.
Jersey Shore Boca has a record fifty-five club standouts who previously played for Boca on either their Men's, Super Y-League, PDL, Club or Youth teams that are participating in NCAA intercollegiate soccer this fall for their respective institutions.
This is the highest number of Jersey Shore Boca players to ever participate in NCAA intercollegiate soccer during the same season in the club's 27 year history.
Jersey Shore Boca has been a fixture in the soccer community since 1978 and is one of the most respected soccer clubs on the East Coast.
The Club is celebrating their 27-year anniversary in 2005.
For more information on the Jersey Shore Boca Soccer Club, visit the Club's official web site at www.jerseyshoreboca.com
news