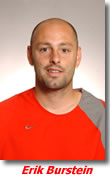 Kutztown University Director of Athletics Greg Bamberger has named JSB alum Erik Burstein its new head coach of women's soccer. Burstein was a two-time member of Boca's NJ State Cup championship teams of 1992 and 1994 as well as serving as assistant coach and goalkeeper coach of Boca's PDL side in 2003. He takes over at KU after spending last season as an assistant at Bowling Green State University.
Boca Alum Named Head Women's Coach At Kutztown
Standout GK was two-time member Boca's State Cup championship teams
KUTZTOWN, PA – Kutztown University Director of Athletics Greg Bamberger has named Erik Burstein its new head coach of women's soccer.
Burstein comes to Kutztown from Bowling Green State University, where he served as an assistant coach during the 2006 season. An accomplished soccer player, he brings 10 years of coaching experience with him to Kutztown.
"We were very impressed with Erik's enthusiasm to be the next head coach of women's soccer at Kutztown University," Bamberger said. "He brings a wealth of knowledge with him, along with a strong desire to continue and build upon the level of success we have achieved within our women's soccer program."
Burstein, who started at KU on March 5, took over a women's soccer program that has recorded five-straight double-digit win seasons, four-straight appearances in the Pennsylvania State Athletic Conference (PSAC) Playoffs and was the PSAC runner-up in 2004 and 2005.
"I am so thankful for this opportunity and I cannot wait to get started," Burstein said. "I look forward to working with the entire staff at Kutztown University, but most of all, I am really excited about the individuals who make up our women's soccer family. The future is bright, and I am very happy to be a part of it."
While with the Bowling Green Falcons, he worked primarily with the defenders and goalkeepers, which produced the team's best defensive record in the program's 10-year history in 2006. The team allowed the fewest goals, produced the most shutouts and had the league's leading goalkeeper in goals-against average.
Prior to BGSU, Burstein was the head coach at Division III Rutgers University-Newark. Over three seasons, he guided the Scarlett Raiders to a 23-29-2 record. His team was 8-10 in 2003, then the school's record for wins. The next year, Burstein led the squad to the first winning season in program history, finishing 10-7-1. Prior to taking over as head coach, Burstein served the 2002 season as assistant coach at Rutgers-Newark.
Burstein began his coaching career in 1997, when he coached the Greater Akron (OH) Premier and West Akron Soccer Club under-14 boys teams. He was also an assistant coach at Median Highland High School. He also has spent time as director of coaching/player development with the Lakehurst-Manchester Soccer Association (2000-02) and on the coaching staff with the New Jersey Olympic Development Program (2002-06).
From 2003-04, Burstein was an assistant coach with the Jersey Shore Boca F.C. of the United Soccer League: Premier Development League.
An accomplished goalkeeper in his own right, Burstein was a two-time all-conference, all-county and all-state first-team selection at his alma mater, Toms River East (NJ) High School. He was a Mid-Atlantic All-America selection as a senior in 1994.
He has also played professionally, both domestically and internationally. He was a member of the Brooklyn Italians Professional Soccer team in 1991, and then played for the Leyton Orient F.C. (English 3rd Division) from 1992-94.
He played for the New Jersey Youth Soccer State Cup Champion Jersey Shore Boca F.C. in 1992 and 1994, and earned a spot on the Olympic Development Program at both the state (New Jersey) and regional (Region I) levels from 1990-94.
He currently holds a USSF National "B" license. He also holds USSF National Goalkeeping and Youth licenses, as well as NSCAA Goalkeeping Level III National and Youth diplomas.
He is a 2002 graduate of Richard Stockton College of New Jersey, with a degree in communications.
Burstein replaces Jeff Schellenberger, who resigned in December.
news