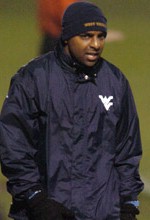 Former Jersey Shore Boca standout and current West Virginia University head men's soccer coach Marlon LeBlanc believes the 9.9 scholarship rule in men's soccer has provided more parity in the sport. The storied Boca alum, who begins his sixth year in charge of the Mountaineers, also has his sights set on developing his players for the next level.
LeBlanc Talks About Parity and 2011
Boca alum sees WVU as place for professional development
MORGANTOWN, WV (August 1, 2011) – Former Jersey Shore Boca standout and current West Virginia University head men's soccer coach Marlon LeBlanc believes the 9.9 scholarship rule in men's soccer has provided more parity in his sport.
There have been 14 different national champions in NCAA men's soccer over the course of the last 25 years, including last year's champion Akron from the Mid-American Conference.
"There was a time period in the 1970s when St. Louis went on a huge run, and then there was a time period when Indiana went on a huge run," he said. "Then (Virginia) in the early '90s went on a run, but now with the evolution of our league right through all the way to the youth game, there have been a lot more better players and the haves aren't just UVA, Indiana and the big schools that are always there."
Akron winning last year's NCAA title has made those not too familiar with the sport take notice.
"There is more room for the Akrons and the Santa Barbaras and the West Virginias to break through, because while we were playing catch-up, there is also a bigger pool of kids out there than years ago," he explained.
LeBlanc said Akron is the perfect example of a soccer program maximizing their resources.
"Akron had a very, very rich tradition of success in college soccer," LeBlanc said. "They may not have won a national title but they've been to the Final Four before. They are not in a BCS conference, but compared to West Virginia, the tradition is left and right, you're talking about McCain and Obama here."
However, West Virginia is coming off its third trip to the NCAA tournament in the last five years under LeBlanc and the Mountaineers have an impressive cast of players returning in 2011.
LeBlanc said his goal is to continue to develop a reputation of having a program that produces professional players.
"We've had scouts coming in to watch our kids play because they feel like they are getting a good foundation, and that translates to the next level," LeBlanc said. "We like to think of ourselves as a really good place to develop talent."
Training camp for men's soccer opens in August and the Mountaineers will be put to the test right away with early season matches against Virginia, Maryland and UC-Santa Barbara, all on the road.
LeBlanc owns a 52-31-18 overall record heading into his sixth season at WVU.
The former Boca standout was appointed head coach at WVU in 2006 after serving several years as the top assistant at Penn State University.
LeBlanc has guided WVU to three NCAA tournaments, advancing to at least the second round in all three appearances, including the NCAA Sweet 16 in 2007, while also winning the BIG EAST regular-season championship in 2006.
WVU has also been ranked in the Top 25 at one point in every season over the past five years.
The WVU skipper was a member of Jersey Shore Boca youth teams for several years and also a part of the two-time Boca New Jersey State Cup Championship teams coached by Frank Santos and Dave Ellis in the early-1990s.
The Boca alum is part of an elite group of former Jersey Shore Boca standouts who are presently teachers of the game at some of the most recognized college soccer programs in the United States including:
Erik Burstein (Toms River), head women's coach at Kutztown University;
George Gelnovatch (Wall), head men's coach at the University of Virginia;
Ken Lola (Brick), head men's coach at the University of Louisville;
Kenny Masuhr (Ocean Gate), assistant women's coach at the University of Pennsylvania;
Kirk Pericciouli (Bayville), head men's coach at Ocean County College and
Paul Royal (Philadelphia), head women's coach at LaSalle University.
Jersey Shore Boca has been a fixture in the soccer community since 1978 and is one of the oldest and most respected soccer clubs on the East Coast.
The Club is celebrating their 33-year anniversary in 2011.
For more information on the Jersey Shore Boca Soccer Club, log on to the Club's official web site at www.jerseyshoreboca.com
news