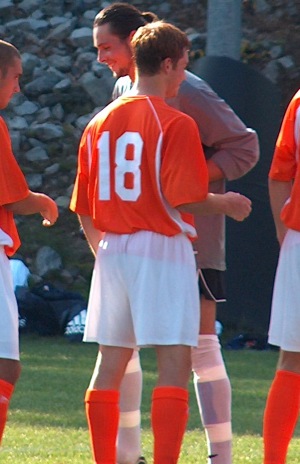 Boca veterans Andrew Hawtin of Syracuse University and Chris Konopka of Providence College, both members of the Boca U23 team this summer, shake hands after their BIG EAST game against each other last year. They are just two of over fifty Jersey Shore Boca players and coaches who will landscape college rosters across the nation as the 2006 NCAA college soccer season begins on Friday.
Let The Games Begin
Jersey Shore Boca players and coaches landscape college rosters across the nation as the 2006 NCAA college soccer season begins
TOMS RIVER, NJ (August 20, 2006) – When the 2006 NCAA college soccer season kicks-off this Friday, chances are that shore area soccer fans will not have to look very far to find a former or current Jersey Shore Boca player on some college team either battling opponents on the pitch or coaching from the sidelines somewhere throughout the United States.
Over fifty Jersey Shore Boca standouts who previously played for the Club on either their Men's, Super Y-League, PDL, Club or Youth teams, will participate in NCAA intercollegiate soccer this fall representing their respective institutions as players and coaches in some of the top college soccer programs in the nation.
This number represents one of the highest ever of Jersey Shore Boca players and coaches to participate in NCAA intercollegiate soccer during the same season in the Club's 28-year history.
Eight of Boca's former Club standouts will lead their college teams from sidelines this season including Marlon LeBlanc (East Windsor) who was recently appointed the new head men's soccer coach at West Virginia University on August 9th after serving several years as an assistant at Penn State.
LeBlanc was part of the two-time Boca NJ State Cup Championship teams coached by Dave Ellis in the early-1990s.
Also guiding his team for the 11th season this year is George Gelnovatch (Wall), head men's coach at the University of Virginia and one of the most recognized Jersey Shore Boca alumni in history.
Gelnovatch, who played several years in Boca's youth system in the mid-1980s under long-time Boca coach Walt Pericciuoli while attending Wall High School, has led Virginia to an overall record of 155-55-18, three ACC titles and nine NCAA Tournament appearances in his last 10 seasons as head coach.
In addition to the seven coaches, numerous Jersey Shore Boca players will be either battling opponents, including squaring-off against each other, or will be college teammates when the college soccer season begins on Friday.
Leading this season's list of Boca's collegiate players are nine Club standouts that will take the field for teams in the BIG EAST Conference, one of the top Division I soccer conferences in the country.
The eight include Syracuse University's Andrew Hawtin (Toms River) and Tyler Stoviak (Malvern, PA); Seton Hall University's Justin McGrath (Brick) and Teddy Niziolek (Clifton); Rutgers University's Joey Sorrentino (Hamilton) and Jake Wienberg (Highland Park); Providence College's Chris Konopka (Toms River) and St. John's University's Jara Habib (Marlboro).
Hawtin, Stoviak, McGrath, Niziolek and Konopka were all members of the Boca U23 team this summer that advanced to the semi-finals of both the USASA U23 Regional Tournament and the MSSL Cup Championship while Sorrentino, Weinberg and Habib were members of Boca's Super Y-League teams in earlier years.
Five Boca players will also be making transitions from an old school to a new one this season including Jon Curry-Edwards (Spring Lake Heights) from Old Dominion University to the University of Delaware; Cody Peters (Lakehurst) from Drew University to LaSalle University; Damon Wilson (Swedesboro) from Ohio Wesleyan to Monmouth University; Andrew Finger (South Harrison) from Neumann College to Rowan University and Colin Jennings (Wall) from Elizabethtown College to Rider University.
Curry-Edwards and Peters were also members of the Boca U23 team this summer.
In addition to the Boca college teammates together on Syracuse (Hawtin and Stoviak), Seton Hall (McGrath and Niziolek) and Rutgers (Sorrentino and Weinberg), five other schools will feature multiple Boca players on their rosters this year.
Peters will join Andy Perez (Brick) and Jeremy Ortiz (Mount Laurel) at LaSalle University; Jennings will join Mike Juska (Wall) at Rider University; Wilson will join Danny Haydu (Toms River) at Monmouth University and Kissniger Barreau (Barnegat) and Manny Nieves (Hammonton) will compete together in their final year at Centenary College.
Six Jersey Shore Boca players will also call Stevens Institute of Technology home for this season including George and Nick Gkionis (Jackson), Chris McGreevy (Rochester Hills, MI), Brandon Schaefer (Albuquerque, NM), Versh Tivzenda (Marietta, GA) and James Mirarchi (Long Branch).
Perez, Haydu, Juska, George Gkionis, Schaefer and Tivzenda were also teammates on the Boca U23 team this summer.
"Our club has always had a historical large number of our youth and adult players not only continuing their soccer careers in college, but excelling at that level. Recently, we're now starting to see more of our alumni take on college coaching positions and become teachers of the game. It's a fantastic feeling to know all of these individuals, both players and coaches, at some point in time all wore the same Boca blue and gold colors and competed for our Club. Our directors, coaches and staff are very proud of all of our college players and college coaches. We wish all of them all the best of success this season" mentioned Walt Konopka, a member of the Jersey Shore Boca Board of Directors who also coaches the Boca U23 teams during the summer.
The Jersey Shore Boca players and coaches who will participate in intercollegiate soccer this fall are as follows (name-hometown-college):
Coaches:
Ash, Jason-Toms River-Head Men's Coach-Ocean County College
Burstein, Erik-Toms River-Asst. Women's Coach-Bowling Green University
Gelnovatch, George-Wall-Head Men's Coach-University of Virginia
Hutterman, Brian-Toms River-Head Men's Coach-Ocean County College
LeBlanc, Marlon-East Windsor-Head Men's Coach-West Virginia University
Lola, Kenny-Brick-Head Men's Coach-University of Louisville
Masuhr, Kenny-Island Heights-Asst. Men's Coach-Kean University
Royal, Paul-Philadelphia, PA-Head Women's Coach-LaSalle University
Seniors:
Baiata, Mike-Pt. Pleasant Beach-William Paterson University
Barreau, Kissniger-Barnegat-Centenary College
Bulvanoski, Pat-Oceanport-Mt. Saint Mary's College
Campbell, Justin-Pt. Pleasant Boro-Manhattan College
Coletti, Jim-Warren-Assumption College
Fraggos, Andy-Marlboro-Towson University
Hawtin, Andrew-Toms River-Syracuse University
Herring, JP-Barnegat-Caldwell College
Gkionis, George-Jackson-Stevens Institute of Technology
Gkionis, Nick-Jackson-Stevens Institute of Technology
Konopka, Chris-Toms River-Providence College
Mancuso, Jason-Toms River-Central Conn. State University
McGreevy, Chris-Rochester Hills, MI-Stevens Institute of Technology
McMichael, Jim-Pompton Plains-Kings College
Nieves, Manny-Hammonton-Centenary College
Niziolek, Teddy-Clifton-Seton Hall University
Schaefer, Brandon- Albuquerque, NM-Stevens Institute of Technology
Zambor, Casey-Jackson-Lynchburg College
Juniors:
Bautista, Daniel-Howell-New Jersey Institute of Technology
Curry-Edwards, Jon-Spring Lake Heights-University of Delaware
Galante, Rob-Sayreville-Bloomfield College
Haydu, Dan-Toms River-Monmouth University
McBride, Mike-Spring Lake Heights-St. Joseph's University
McGrath, Justin-Brick-Seton Hall University
Nicholson, Dave-Clarksburg-East Stroudsburg University
Ortiz, Jeremy-Mt. Laurel-LaSalle University
Perez, Andrew-Brick-LaSalle University
Peters, Cody-Lakehurst-LaSalle University
Plaugic, John-Kearny-Caldwell College
Stoviak, Tyler-Malvern, PA-Syracuse University
Tivzenda, Versh-Marietta, GA-Stevens Institute of Technology
Wilson, Damon-Swedesboro-Monmouth University
Sophomores:
Brackley, Dan-Hamilton-Carnegie Mellon University
Fidler, Chip-Williamstown-Norwich University
Finger, Andrew-South Harrison-Rowan University
Habib, Jara-Englishtown-St. John's University
Jennings, Colin-Wall-Rider University
Joseph, Curtist-Lakewood-Ocean County College
Juska, Mike-Wall-Rider University
Mirarchi, James-Long Branch-Stevens Institute of Technology
Nelan, Chris-Barrington-College of New Jersey
Petruniak, Mark-Hightstown-American University
Schmiegel, Mark-Toms River-Bucknell University
Weinberg, Jake-Highland Park-Rutgers University
Freshmen:
Bunda, Zach-Hamilton-Drew University
Bulvanoski, Kevin-Oceanport-Fordham University
Cooper, Robert-Trenton-Mercer County Community College
Neptune, Jamal-East Windsor-Hofstra University
Rogers, Dave-Jacobstown-FDU
Sorrentino, Joseph-Hamilton-Rutgers University
Verdel, Dan-Hamilton-Penn State University
Willever, Cliff-Jacobstown-Mercer County Community College
Jersey Shore Boca has been a fixture in the soccer community since 1978 and is one of the oldest and most respected soccer clubs on the East Coast.
The Club is celebrating their 28-year anniversary in 2006.
For more information on the Jersey Shore Boca Soccer Club, log on to the Club's official web site at www.jerseyshoreboca.com
news