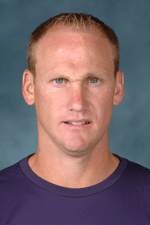 Jersey Shore Boca alum Paul Royal, a standout goalkeeper who played with Boca several years before moving on to the professional ranks, is the feature of an article on phillysoccernews.com. Now entering his fourth season as the head women's soccer coach at LaSalle, Royal doesn't need much more than bridge tolls when he sets out to recruit players.
LOCAL RECRUITS GET ROYAL TREATMENT AT LASALLE
Explorers Sign Eight New Recruits
Marc Narducci
From PhillySoccerNews.com
March 26, 2006
Paul Royal isn't one of those coaches who feels that the pastures are greener outside the Delaware Valley landscape. Now entering his fourth season as the head women's soccer coach at LaSalle, Royal doesn't need much more than bridge toll when he sets out to recruit players.
Sure, he goes to the big tournaments out of state, but he usually comes home with players who don't need a map or a plane to get to LaSalle.
Royal admits that his recruiting model comes from somebody else's collection. He is trying to pattern the La Salle program after Villanova. The Wildcats have the unquestioned top Division I program in the Philadelphia area and Royal doesn't mind taking a few notes from Villanova coach Ann Clifton.
Then again, Royal was an assistant to Clifton and learned first hand how she built the program into a perennial NCAA contender each year.
When Clifton first came to Villanova, as when Royal started at LaSalle, both programs weren't very high up on the soccer radar in Philadelphia.
Clifton changed that almost immediately and she did it by selling the school to some of the top local players in the area. After a few years, Villanova was recruiting high-level players from Southeastern PA and South Jersey and once the team began winning, then Villanova stretched the boundaries – to as far as California.
Villanova made four straight NCAA appearances, a streak that was snapped in 2005.
In recruiting, if a coach can sell the program to youngsters from their own backyard, then it's easier to convince others to come as well.
Royal feels that he can build a strong program in the Atlantic 10 by not straying too far from the backyard. Heck, he barely has to leave the porch.
"I'm using the model Ann and I used at Villanova," said Royal, who was a former professional goalkeeper for the Philadelphia Kixx. "If we get a lot of high level local kids, we can be a competitive team."
A look at La Salle's roster from last season shows that only three players weren't either from Pennsylvania or New Jersey. There were two from New York and one from Richmond, Virginia, locales that aren't exactly at the other end of the earth.
"There is so much talent in the area, we can start marketing our name and I think the local players are starting to see this," Royal said.
Royal should know. He attended Philadelphia's Archbishop Ryan before leaving for the Midwest pastures of the University of Wisconsin-Milwaukee, where he graduated in 1996.
Royal played professionally for the Milwaukee Wave of the Major Indoor Soccer League for two seasons, before coming home for good.
He spent five years as Clinton's chief assistant before being named La Salle's coach in May of 2003. That was too late to do any serious recruiting, and it was no surprise that the Explorers struggled during his first season, going 3-13-3.
Following that season, Royal reaped a bountiful local recruiting class that included three South Jersey players who will be entering their junior seasons, Kristin Hextall from Eastern, Kim Lisun of Deptford and Jenna Guagenti of Paul VI.
His second La Salle team went 10-8-2 and qualified for the Atlantic 10 Tournament for the second time in school history.
Last season the program took a step back, falling to 5-12-2, the byproduct of some inexperience and injuries, along with the continued growth of Atlantic 10 soccer.
And that now brings us to the current recruiting class, one that Royal says is his best ever. It includes eight players and there still may be some talented preferred walk-ons who join the fold.
On a La Salle team that will only have two seniors in 2006, the many of the young recruits will have to play a prominent role if the Explorers have designs on returning to the A-10 tourney.
"With the depth we've added, it's probably the strongest of our recruiting classes," Royal said.
Three of the recruits have been on regional teams – Holy Cross (NJ) midfielder Casey Riley, Washington Township (NJ) midfielder Ally Kenny and Bishop Shanahan (PA) defender Becky McGuigan.
There are plenty of other high level players coming to La Salle. Sara Copare, a midfielder from South Jersey's Schalick High, was a National Soccer Coaches Association of America all-American scholar athlete selection.
The other recruits, all serious all-stars in their own right, include central midfielders Lauren Barker of Lacey Township (NJ) Melanie Gamble of George Washington (PA); outside midfielder Carissa Philips of Wilson West Lawn High (PA) and central defender Kim Voorhees of Neshaminy (PA).
Any of the eight are talented enough to contend for immediate playing time, even though La Salle has a solid group of returning veterans.
That is how all the good programs work. And in order to get La Salle to among the elite in the A-10, Royal realizes that his odometer will have to turn over quite a bit, even if it is only driving in New Jersey and Pennsylvania.
Like Clifton, Royal is known as a tireless recruiter. And he realizes he has to do this just to tread water in the ever improving A-10, which has been bolstered the additions of St. Louis and Charlotte.
"When I first started recruiting for La Salle, you would see a few of the Atlantic 10 coaches at tournaments, but now in about a 12-14 week recruiting period, you see all the coaches there," Royal said. "I compare the Atlantic 10 to the Big East three or four years ago when that conference said it wanted to win NCAA Tournament games and compete for a national championship."
Royal doesn't want to think too far ahead, but he no doubt expects the Explorers to resemble more of his second team than his third. And he knows that he can't be satisfied with bringing in talented recruits, mainly because he realizes his competitors are doing the same.
That's why he will continue to scour the area, spread the word about La Salle and continue to pay the bridge toll to see more than enough talent to keep him busy in the New Jersey and Pennsylvania.
news