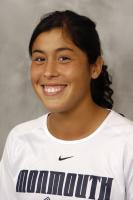 Andrea Lopez, the 2006 NEC player of the year, scored one goal and added two assists as the Boca U23 women topped the Battle of Monmouth Den of Lions 3-1 in MSSL action Wednesday evening under the lights at the John Patrick Sports Complex in Lakewood. With the win Boca improves to 2-0-1 and is now tied at the top of the MSSL U23 women's division.
Lopez Leads U23 Women In Mid-Week Action
Monmouth University standout tallies one goal and two assists in 3-1 Boca win
LAKEWOOD, NJ (June 11, 2008)-Andrea Lopez (Oakhurst) scored one goal and added two assists as the Jersey Shore Boca U23 women's team topped the Battle of Monmouth Den of Lions 3-1 in Mid-Atlantic Summer Showcase League (MSSL) action Wednesday evening under the lights at the John Patrick Sports Complex in Lakewood.
With the win Boca improves to 2-0-1 (W-T-L) and is now tied at the top of the MSSL U23 women's division with TSF Academy with six points each while the Den of Lions fall to 1-0-1.
Battle of Monmouth inked the first goal of the game in the 23rd minute when Carol Oliveria found Ashley Cunha on the right side who hit a strike from 25 yards out.
The Boca women tallied the equalizer in the 40th minute as Lopez served a cross to Erin Cunliffe (Lakewood) on the left side of the penalty area where the College of New Jersey senior buried her shot to the right past the diving Den of Lions keeper.
The eventual game winner for Boca came in the 49th minute after April Damurjian (Wall) received a ball from mid-field and quickly dribbled past two Den of Lions defenders just outside the 18 yard box.
Damurjian, who will be a freshman this fall at Monmouth University, cleverly spotted Lopez, the 2006 Northeast Conference Player of the Year, on the left side who sent a low shot to the far post to notch her first goal for Boca this season.
Joni DeMoor (Wayne) a Monmouth University senior, scored an insurance goal for Boca, assisted by Lopez, with 10 minutes remaining in the match.
Former Brick Memorial and Lock Haven University star Emily Wagner (Brick) and Kutztown University sophomore Stephanie Bonsky (Manahawkin) split time between the pipes for the Boca women.
The Boca U23 women return to action on Sunday and will compete in a MSSL round-robin competition as they square-off against some of the top U23 teams in the League, starting at 10:00am at the John Patrick Sports Complex in Lakewood.
At the conclusion of their MSSL games on Sunday, the Boca U23 men's and women's teams will hold their annual Summer Meet and Greet event at the Surf Taco restaurant in Jackson Township starting at approximately 3:00pm.
Surf Taco, a popular, casual Mexican-themed restaurant chain with seven locations throughout the shore area, is their fourth consecutive year as the Official Sponsor of the Boca's U23 summer soccer program.
The Jersey Shore Boca Soccer Club has been a fixture in the soccer community since 1978 and is one of the most respected soccer clubs on the East Coast.
The Club is celebrating their 30-year anniversary in 2008.
For more information about all Jersey Shore Boca programs visit the Club's official web site at www.jerseyshoreboca.com
news