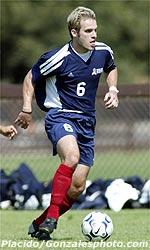 Jersey Shore Boca PDL member Johnny David, a Fairleigh Dickinson University senior midfielder who hails from Hillside, NJ, was selected by the MetroStars in the fifth round of the 2004 MLS Super Draft held on Wednesday in Charlotte, NC.
MetroStars Select Boca PDL Player in Draft
David drafted in fifth round of MLS 2004 draft
CHARLOTTE, NC (January 16, 2004) – Jersey Shore Boca PDL member Johnny David, a Fairleigh Dickinson University senior midfielder who hails from Hillside, NJ, was selected by the MetroStars in the fifth round of the 2004 MLS Super Draft held on Wednesday in Charlotte, NC.
He was the second Boca PDL player selected in the draft. David was the sixth pick of the fifth round and 46th pick overall.
"It's very exciting to be selected by the MetroStars," said David. "A lot of players dream of playing for big teams and I'm looking forward to having that chance with one of the biggest, right here in New Jersey. A lot of hard work has paid off. I have to give a lot of the credit to my teammates and coaches who helped me develop over the years."
The 2003 NEC Men's Soccer Player of the Year, David ranked second on the team with 13 points and helped lead the Knights to their unprecedented fourth consecutive league title and a third straight NCAA Tournament appearance. All three of his goals were game winners, including the decisive strike in the finale of the Yale Soccer Classic, for which he was named Tournament Most Valuable Player.
The honors kept rolling in for David at the conclusion of the season. He was named a Third Team All-American by College Soccer News one day after being named to the adidas/NSCAA All-Mid-Atlantic region first team. A three-time All-NEC performer.
David was also selected to the CoSIDA Academic All-District II team and named 2003 NEC Men's Soccer Scholar Athlete. He is a member of the National Collegiate Athletic Honor Society and has recorded a 3.51 grade point average as a psychology major.
"I'm very happy for Johnny," said Knights' Head Coach Seth Roland. "It's a great opportunity, a well-deserved one, and a great fit for him. I'm confident that the MetroStars and Coach Bob Bradley will appreciate the type of player he is."
David joins fellow Jersey Shore Boca PDL teammate Kevin Ara from Harvard University as MLS draftees. Ara was the second overall pick of DC United.

news