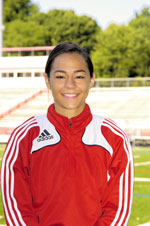 Sophomore midfielder and Jersey Shore Boca U23 women's standout Katie Minervini scored the lone goal of the game midway through the first half to lift the Montclair State University women's soccer team over Rutgers University-Camden in a New Jersey Athletic Conference game Saturday night at Rutgers-Camden Community Park. Minervini is a two-year member of the Boca women's U23 team.
Minervini Leades Montclair Past Rutgers
Boca U23 standout tabs lone goal for win
Camden, NJ (October, 4 2008) – Sophomore midfielder and Jersey Shore Boca U23 women's standout Katie Minervini (Oceanport, NJ/Shore Regional) scored the lone goal of the game midway through the first half to lift the Montclair State University women's soccer team over Rutgers University-Camden, 1-0, in a New Jersey Athletic Conference game Saturday night at Rutgers-Camden Community Park.
Minervini scored her first goal of the season at 24:50, sending a shot into the upper left corner after taking a cross from the left side to the top of the box by senior midfielder Jennifer Kelleher. The assist was the first point of the year for Kelleher.
Montclair State improves to 7-5 overall and 3-2 in the NJAC with its fourth win in five games. The Red Hawks also improved their all-time record against Rutgers-Camden to 10-0-1, including three straight shutout victories.
Montclair State had a potential insurance goal negated by an offsides call with 20 minutes remaining in the game. With five minutes left, the Raptors' Samantha Sharp nearly tied the game, but her shot his off the bottom of the crossbar and bounded out.
Both teams return to action early next week with non-conference games. The Red Hawks play at Eastern University Monday at 4 p.m. The Lady Raptors host Arcadia University Tuesday at 7 p.m.
Minervini is a two-year member of the Boca U23 women's team which advanced to the USASA U23 Regional Tournament for two consecutive seasons while also advancing to the MSSL Cup Championship in 2007.
Boca has been a fixture in the soccer community since 1978 and is one of the most respected soccer clubs on the East Coast.
The Club is celebrating their 30-year anniversary in 2008.
For more information about the Boca U23 teams and all other the Jersey Shore Boca programs logon to the Club's official web site at www.jerseyshoreboca.com
news