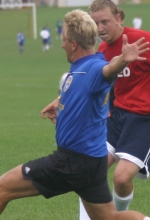 Former Richard Stockton College and Monsignor Donovan HS standout Kenny Masuhr tallied the game winner as the Jersey Shore Boca men's open team captured the New Jersey Amateur Cup Sunday evening as they defeated the German American Kickers in the championship game at the Eastern Soccer Complex in Berkeley Township. Boca now advances to the USASA Regional Amateur Tournament later this spring.
NJ Amateur Cup Champions
Boca men top GAK 2-1 in New Jersey Amateur Cup Final
BEREKELEY TWP., NJ (March 19 2006) – The Jersey Shore Boca men's open team captured the New Jersey Amateur Cup Sunday evening as they defeated the German American Kickers (GAK) 2-1 in the championship game at the Eastern Soccer Complex in Berkeley Township.
Boca will now advance to United States Adult Soccer Association (USASA) Regional Amateur Tournament later this spring for a chance to compete in the 2006 USASA National Amateur Cup this summer in Frisco, Texas.
Boca took a 1-0 lead mid-way through the first half when former Monmouth University and Central Regional HS standout John Carozza (Bayville) won a 50-50 ball about thirty yards out, side-stepped a GAK defender and ripped a left-footed shot past the GAK keeper.
Although both sides had additional scoring opportunities, the first half ended 1-0 in Boca's favor.
GAK evened the score 1-1 in the 55th minute off a free-kick twenty yards out on the left side which deflected off several Boca defenders before finding its way into the back of the net.
In the 83rd minute, Boca's Donny Gray (Toms River) received a ball out of the back on the right side. The former Rutgers University and Toms River South HS midfielder moved into the middle third of the field then played a forty yard ball to teammate Kenny Masuhr (Island Heights) streaking to the far post.
The former Monsignor Donovan HS and Richard Stockton College star collected the cross and buried the game winner to the near post to end the scoring for the match.
Boca's experienced back three veterans of Eddie Decker (Toms River East – East Stroudsburg University), Christian Treney (Toms River East – Methodist University) and Guy Lockwood (Southern Regional – Monmouth University) held the GAK to minimum scoring opportunities for the final six minutes of the game.
With the win, Boca improves their overall record this year to 5-4-1 and now awaits their seeding and opponent in the USASA Regional Amateur Tournament.
The team is currently in fifth place out of ten teams in South Group of the Garden State Soccer League's Semi-Pro Elite Division.
Treney along with former shore area player Ryan Applegate (Central Regional – Rowan University) are player-coaches of the team.
Jersey Shore Boca has been a fixture in the soccer community since 1978 and is one of the most respected soccer clubs on the East Coast.
The Club is celebrating their 28th year of existence in 2006.
For more information on the Jersey Shore Boca Soccer Club visit the Club's official web site at www.jerseyshoreboca.com
news