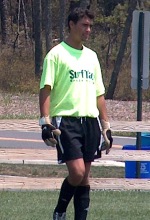 Boca goalkeeper and Rowan sophomore Charlie Cunliffe earned NJAC Defensive Player of the Week honors for the week ending October 12 after recording three consecutive shutouts in goal for the Profs during a 2-0-1 week of non-conference play. The Boca standout, who recently returned to action for Rowan after severely injuring his hand, has been a member of Boca youth and U23 teams for several years.
NJAC Honors Boca's Cunliffe
Sophomore GK named Defensive Player of the Week
PITMAN, NJ (October 12, 2008) – Jersey Shore Boca goalkeeper and Rowan University sophomore Charlie Cunliffe (Lakewood) earned New Jersey Athletic Conference (NJAC) Defensive Player of the Week honors for the week ending October 12 after recording three consecutive shutouts in goal for the Profs during a 2-0-1 week of non-conference play.
Cunliffe recently returned to action for Rowan after severely injuring his hand just before the start of this season.
He opened the week by notching four saves in 110 minutes of scoreless action during Rowan's scoreless draw at Wilkes University.
Three days later, the Lakewood HS alum collected six saves in 90 minutes of scoreless play during the Profs' 1-0 road win at Ithaca College.
The Boca standout wrapped up the week by posting two saves for his second shutout in a two-day period following a 1-0 non-conference road win at Marywood University.
He currently has posted an overall record of 2-2-3 on the year ranks sixth in the NJAC in goals against average this season with a mark of 1.20.
Cunliffe along with Rowan teammate Andrew Finger (Mullica Hill) have been members of Boca youth and U23 teams for several years.
Boca has been a fixture in the soccer community since 1978 and is one of the most respected soccer clubs on the East Coast.
The Club is celebrating their 30-year anniversary in 2008.
For more information about the Boca U23 teams and all other the Jersey Shore Boca programs logon to the Club's official web site at www.jerseyshoreboca.com
news