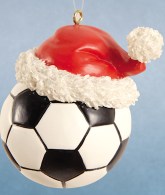 The year was 1914 and the place was Belgium. English and German soldiers were huddled in cold, muddy trenches and miles away from their families. It was Christmas time and these troops were soon realizing that WWI was not going to be over soon. The story has been told countless times but still many people do not know this extraordinary tale of peace in a time of war.
Peace With Christmas Soccer
By: William Allison
Ottawa University
Reprinted from 12/4/07
The year was 1914 and the place was Flanders in Belgium along the Western Front. English and German soldiers were huddled in cold, muddy trenches and miles away from their families. It was Christmas time and these troops were soon realizing that World War I was not going to be over soon.
The story has been told countless times in books and movies but still many people do not know this extraordinary tale of peace in a time of war.
By the evening of Christmas Eve, the Germans were ready for a break from fighting. They went over the top of their trenches singing songs and despite a few shots being fired were joined in by their English and French counterparts. Signs that read "You no fight, We no fight" and "Merry Christmas" soon began to pop on both sides and in the midst of one history's most tragic wars, a Christmas truce was called.
The soldiers then began to bury their dead and exchange chocolate, newspapers and tobacco. But most importantly they exchanged their rifles for soccer balls.
We have always known the benefits of sports. It builds teamwork and brotherhood. It gives us the joy of competition outside on a sunny afternoon. But during this time almost a 100 years ago, sports brought enemies together for a brief moment where the war they were fighting went away.
While there weren't many organized games, more just pick-up games and kick-arounds, the spirit was there. Kurt Zehmisch of the 134th Saxons wrote in his diary:
"The English brought a soccer ball from the trenches, and pretty soon a lively game ensued. How marvelously wonderful, yet how strange it was. The English officers felt the same way about it. Thus Christmas, the celebration of love, managed to bring mortal enemies together as friends for a time."
Unfortunately, the truce only lasted for a few days. The generals for both sides didn't like what was going on and they ordered their soldiers to resume the hostilities. They feared if the truce continued their men would not kill the same men they had just celebrated Christmas with; that their will to fight would be overcome by their desire to come together in peace. And in all reality, they were probably right.
For as long as this world has existed, it has been plagued by wars. There are so many different people with so many different ways of life that we clash because we just don't know how to get along with people who aren't the same as us. We just don't realize that although our skin color or the god we worship or the ideals we hold close may be different, we are all so close.
The Germans and English soldiers during World War I realized that. They came together with the help of a soccer ball. The soccer ball that makes million-dollar athletes and exciting teams was the same soccer ball that stopped the killing for a few days. The soccer ball that brought men together and made them realize that they aren't so different after all.
Sadly, we will probably always have wars and always have fancy diplomacy strategies. But in truth, the greatest peacemaker of all just might be a soccer ball. We learned that the will to fight is to match for the desire to come together for a pick-up game. We learned that when we are sick of the killing we can roll out a ball and see what happens. Because just maybe we'll realize that the joy of playing the game is so much better than the pain of fighting.
By: William Allison
Ottawa University
Reprinted from 12/4/07
news