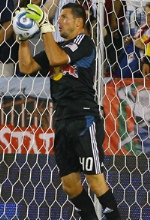 The Philadelphia Union of Major League Soccer announced today that the club has signed Toms River native and former Boca standout Chris Konopka to the Union's roster for the 2012 season. Per club and League policies, the terms of the deal will not be released. A long-time Boca veteran, the keeper was a member of Boca's youth system, U20 and U23 teams throughout his career as well as a member of Boca's PDL team in 2003.
Philadelphia Union Sign Former Boca Keeper
Toms River native spent three seasons playing in Ireland
CHESTER, PA- (March 2, 2012) – The Philadelphia Union of Major League Soccer announced today that the club has signed Toms River native and former Jersey Shore Boca standout Chris Konopka to the club's roster for the 2012 season. Per club and League policies, the terms of the deal will not be released.
Konopka has been with the Union during their 2012 preseason camp since late January and traveled with the team to Florida and Costa Rica.
"Chris is a goalkeeper who was already with MLS teams a couple of times, but also was in Europe. So he has enough experience to be the second or third keeper. He's a very good guy. He looks very well. He's been in Europe and he has a good pedigree in Major League Soccer" mentioned Philadelphia manager and former Polish National Team captain Peter Nowak in February when asked about Konopka.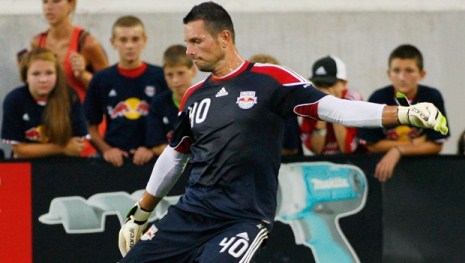 Jersey Shore Boca alum Chris Konopka in action for the New York Red Bulls on August 14 last year against the Chicago Fire. It was announced today that Konopka has signed with the Philadelphia Union of Major League Soccer for the 2012 season (Photo Credit – Getty Images).
The 6ft-5in shot-stopper was originally drafted by Kansas City in the 2007 Supplemental Draft and was most recently a member of the MLS Goalkeeper Pool.
Called into service by the New York Red Bulls last season, Konopka started against the Chicago Fire on August 14 and posted two saves in a 2-2 draw.
He also spent time with the Columbus Crew, playing the second half of the Crew's July 26 friendly against Newcastle United of the English Premiere League. Konopka was also a member of the Crew's roster for games against Salt Lake, Toronto, Houston and Philadelphia.
Prior to returning to MLS in 2011, the 26 year old keeper who also holds Polish citizenship, started 50 games between the pipes among all competitions playing in Ireland and won back-to-back FAI Cup medals with Sporting Fingal and Bohemians, one LOI Champions medal with Bohemians and one Munster Senior Cup medal with Waterford United.
Konopka made his debut for Bohemian FC on July 1, 2008 and became the first American born player to accomplish an "Irish Double" when he helped the team capture both the League of Ireland Championship and the FAI Cup.
In 2009, he moved on to Sporting Fingal, making four first team appearances and helping the club win the FAI Cup. With the victory, Konopka accomplished yet another feat, becoming the first American player in history to win back-to-back FAI Cup titles.
A 2003 Toms River East High School graduate, Konopka played college soccer at Providence College, finishing third all-time in most games played and leading the Friars to three straight BIG EAST Championship Semi-Finals and two straight NCAA Tournaments. In 2006, he garnered Second Team All-BIG East honors.
The Union begin the 2012 MLS regular season in Portland on March 12 before heading home to re-open PPL Park on March 18 against the Colorado Rapids.
A long-time Jersey Shore Boca Soccer Club veteran, Konopka was a member of Boca's youth system, U20 and U23 teams throughout his career as well as a member of Boca's Premiere Development League team in 2003.
The Jersey Shore Boca Soccer Club has been a fixture in the soccer community since 1978 and is one of the oldest and most respected soccer clubs on the East Coast.
Boca is celebrating their 34-year anniversary in 2012.
For more information on the Jersey Shore Boca Soccer Club, visit the Club's official web site at www.jerseyshoreboca.com
news