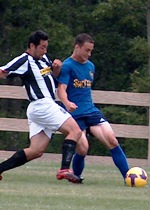 Jersey Shore Boca veteran midfielder and Bucknell senior co-captain Mark Schmiegel ended his outstanding college career with honors as the Toms River native and long-time Boca alum garnered All-Patriot League Second Team recognition for a masterful 2008 college campaign. Schmiegel has been a member of the Boca U23 men's teams for the past several seasons including Boca's the record setting U23 team of 2006.
Schmiegel Ends College Career With Honors
Boca standout named to All-Patriot League Second Team
TOMS RIVER, NJ (November 12, 2008) – Jersey Shore Boca veteran midfielder and Bucknell senior co-captain Mark Schmiegel ended his outstanding college career with honors as the Toms River native and long-time Boca alum garnered All-Patriot League Second Team recognition for a masterful 2008 college campaign.
Schmiegel was a constant explosive offensive threat for the Bison in 2008.
He scored a career-high five goals along with two assists for a career-high 12 points during his last collegiate season at Bucknell. Three of his five goals were game-winners.
On Sept. 7 he potted the go-ahead goal in a 2-0 win at Penn State.
The Boca standout also scored both goals in a 2-1 overtime win over Navy and had another OT game-winner against Army two weeks later.
That gave him three career overtime goals, tying a school record.
Schmiegel started every game – 79 of 79 – over the last four years and finished his career with 12 goals and nine assists for 33 points.
The 2005 Toms River North graduate has been a member of the Boca U23 men's teams for the past several seasons including Boca's the record setting U23 team of 2006.
Boca has been a fixture in the soccer community since 1978 and is one of the most respected soccer clubs on the East Coast.
The Club is celebrating their 30-year anniversary in 2008.
For more information about the Boca U23 teams and all other the Jersey Shore Boca programs logon to the Club's official web site at www.jerseyshoreboca.com
news