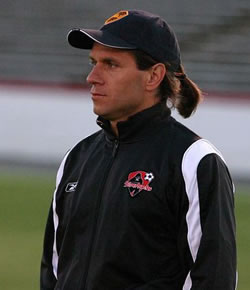 The Atlanta Silverbacks announced today that they have released David Vaudreuil from his duties as Head Coach of the men's professional team. Vaudreuil was in his second coaching position since retiring as a player, having previously coached the Jersey Shore Boca PDL side to a 4-8 mark in 2003.
Silverbacks and Vaudreuil Part Company
Tuesday, June 14, 2005
ATLANTA, GA — The Atlanta Silverbacks announced today that they have released David Vaudreuil from his duties as Head Coach of the men's professional team.
Atlanta Silverbacks President and CEO, Stephen Pratten, said: "Our decision to release David was a difficult one, however the organization decided not to renew his contract which would have expired at the end of this season and once that decision was reached it made sense to make a change sooner rather than later. The move was not prompted by the team's current record but other matters that included differences regarding the future direction of the Atlanta Silverbacks organization. We appreciate David's contributions to the club and wish him well in his future endeavors."
During David Vaudreuil's 39 games in charge of the Atlanta Silverbacks he guided the team to a record of 17 wins, 6 draws and 16 losses. He was 14-11-3 in his first season last year and was currently 3-5-3 in the USL First Division this season.
Vaudreuil was in his second coaching position since retiring as a player, having previously coached the provisional PDL side Jersey Shore Boca to a 4-8 mark.
The former MLS player won two MLS Cup championships and one US Open Cup championship as a member of DC United.
No replacement or interim coach has been named.
Reprinted from www.atlantasilverbacks.com
June 14, 2005

news