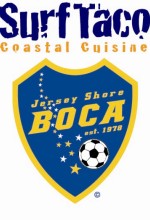 The Boca U23 teams will hold their annual Summer Meet and Greet event at the Surf Taco restaurant in Jackson on Sunday June 15 starting at approximately 3:00pm after their MSSL league games played earlier during the day. The event is open to the general public with free admission and will allow Boca players and coaches to interact with fans and supporters in a casual environment.
Summer Meet and Greet Planned At Surf Taco
Boca U23 teams to hold annual event in Jackson Sunday June 15
JACKSON, NJ (June 9, 2008) – The Jersey Shore Boca Soccer Club announced today that the Boca U23 men's and women's teams will hold their annual Summer Meet and Greet event at the Surf Taco restaurant in Jackson Township, NJ on Sunday June 15 starting at approximately 3:00pm.
The event is open to the general public with free admission and will allow Boca players, coaches, and club directors to interact with fans and supporters in a casual environment.
Live entertainment during the Boca Summer Meet and Greet event will be provided by Hometown Roll, the jersey shore's newest up and coming surf acoustic group.
Earlier in the day, the Boca men and women U23 teams will compete in a Mid-Atlantic Summer Showcase League (MSSL) round-robin competition as they square-off against some of the top U23 teams in the League, starting at 10:00am at the John Patrick Sports Complex in Lakewood.
Surf Taco, a popular, casual Mexican-themed restaurant chain with seven locations throughout the shore area, is their fourth consecutive year as the Official Sponsor of the Boca's U23 summer soccer program.
Owner Rob Nagel with the help of General Manager Shaun Graul opened the first Surf Taco location on Route 35 South in Point Pleasant Beach Memorial Day weekend in 2001 and a second location on Parker Avenue in Manasquan in July 2004.
Presently, Surf Taco has grown to seven locations throughout the New Jersey shore including Seaside Park, Belmar, Silverton, Jackson and their newest location in Lacey Township.
Plans are also underway for an eight Surf Taco to be opened in Long Branch.
The Boca U23 men's and women's teams are participating for the fifth consecutive year as one of the inaugural founding members of the MSSL, a regional summer soccer league, which is specifically designed for collegiate players under the age of twenty-three which is fully sanctioned by the United States Adult Soccer Association, the national governing body for adult amateur soccer.
The Jersey Shore Boca Soccer Club has been a fixture in the soccer community since 1978 and is one of the most respected soccer clubs on the East Coast.
The Club is celebrating their 30-year anniversary in 2008.
For more information about Surf Taco including directions to their locations, menu and special events, visit the restaurant's official web site at www.surftaco.com
For more information about Hometown Roll visit the band's official website at www.myspace.comhometownroll
For more information about the Boca U23 program and all other the Jersey Shore Boca programs visit the Club's official web site at www.jerseyshoreboca.com
news