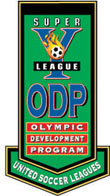 The USL Super Y-League announced the Olympic Development Program Select Camp dates today. Players selected by the ODP Scouting System will attend one of four events that will be held at the Cocoa Expo Training Center in January and February of 2006. Boca will begin their fifth year of play in the SYL on May 25th as the Boca U14s will host the South Jersey Barons.
Super Y-League Announces ODP Select Camp Dates
Jersey Shore Boca SYL Season Starts May 25th
(May 9, 2005) – The USL Super Y-League announced the Olympic Development Program Select Camp dates today. Players selected by the ODP Scouting System will attend one of four events that will be held at the Cocoa Expo Training Center in January and February of 2006.
January 12-15, 2006 – 13, 14 Boys ODP Select Camp
January 26-29, 2006 – 13, 14 Girls ODP Select Camp
February 2-5, 2006 – 15, 16, 17 Boys ODP Select Camp
February 9-12, 2006 – 15, 16, 17 Girls ODP Select Camp
ABOUT JERSEY SHORE BOCA
Jersey Shore Boca will enter five boys teams in the SYL this year; U13s, U14s, U15s, U16s and U19s. All of Boca's 2005 SYL teams, with the exceptions of the U-19 team, will compete in the historically tough Mid-Atlantic Division in the Northeast Conference. The Boca U19s will compete in the Metro Division of the Northeast Conference and will face powerhouse teams from The Storm Academy, Metrostars and Ironbound Sport Club among others, during their twelve game 2005 schedule
In addition to rivals the South Jersey Barons and Super Nova FC, the Boca U13 through U16 Super Y-League teams will again face some of the top youth soccer clubs in the United States this season including DC United (DC), Northern Virginia Royals (VA), Baltimore Bays (MD) and Reading Rage (PA) among others. Each of the five Boca SYL teams will play between 12 and 14 games in a home and away series against other members of the Mid-Atlantic and Metro Divisions. The winner and runner-up in each of the Super Y-League's seven divisions will compete for the Super Y-League National Championship after the completion of the regular season.
Jersey Shore Boca has been a fixture in the soccer community since 1978 and is one of the most respected soccer clubs on the East Coast. The Club is celebrating their 27-year anniversary in 2005. Jersey Shore Boca will kick-off the 2005 Super Y-League Season May 25th when the Boca U14 SYL team hosts cross state rivals the South Jersey Barons.
ABOUT THE SUPER Y-LEAGUE
The future of soccer lives in the Super Y-League, a professionalized system that is the first step for developing youth soccer players in North America. Affiliated with US Soccer and partnered with US Club Soccer, the league is designed for talented youth players destined for professional or international careers. Through Olympic Development (ODP) status programs such as the North American Finals and National ODP Camps, the nation's top players are selected for US National Team Programs. The league is made up of a series of regional leagues within the framework of a North American league containing the top clubs and players from the United States and Canada.

news