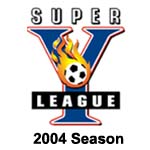 The Jersey Shore Boca soccer club announced today that fourteen players and one coach from their 2004 Super Y-League teams have been selected to Super Y-League Mid-Atlantic Region Olympic Development Program teams and will participate at the SYL National Team Camps that will be held in January and February in Cocoa Beach, Florida.
Super Y-League Tabs 14 Boca Players and Coach
Club standouts named to Super Y-League 2004 Divisional ODP Teams
TOMS RIVER, NJ (October 12, 2004) – The Jersey Shore Boca soccer club announced today that fourteen players from their 2004 Super Y-League teams have been selected to Super Y-League Mid-Atlantic Region Olympic Development Program teams and will participate at the SYL National Team Camps that will be held in January and February in Cocoa Beach, Florida.
The club also announced that veteran Boca coach Bill Carroll (Ship Bottom) has been selected by the Super Y-League as the head coach the Under-14 boys SYL Mid-Atlantic Region ODP Divisional team.
The fourteen Jersey Shore Boca players selected include Thomas Carroll (Middletown), Shane Ferguson (Pt. Pleasant Beach) and Steve Torre (Lacey Twp) from Boca's U-14 SYL team; Zachary Bove (Philadelphia, PA), Nicholas Ciocco (Sewell), Andrew Kroh (Mt. Laurel), Kevin Melfi (Medford) and Vincent Scalici (Burlington) from Boca's U-15 SYL team; Kyle Altenau (West Long Branch), Varlee Koon (Hamilton), Jamal Neptune (East Windsor) and Stanley Touze (Hamilton) from Boca's U-16 SYL team and Andrew Finger (South Harrison) and Damon Wilson (Mullica Hill) from Boca's U-19 SYL team.
Two players, Andrew Finger and Varlee Koon are repeat selections as they were also named to SYL ODP divisional teams in 2003.
Coach Bill Carroll is a veteran member of the Boca coaching staff. Carroll holds a USSF "A" coaching license, is a 1983 graduate of Rutgers University and served as an assistant coach of Boca's Premiere Development League team in 2003. He has coached various Boca teams in the Super Y-League over the past four years, including the Boca U-14 boys team this season.
"On behalf of all of our directors, coaches and staff of our soccer club, I would like to congratulate these young men and Coach Bill Carroll on their selection to the Super Y-League Divisional Teams" said Al Schwartz, the President of Jersey Shore Boca.
Over the course of the 2004 Super Y-League season, players were evaluated by the SYL's National Scouting Staff and recommended to Divisional ODP teams. The technical staff of each club was also consulted regarding the recommendations for final selection of 16 players and six alternates for each Divisional ODP team to attend the National ODP Camp.
"We've been gradually building the Super Y-League's ODP system to focus more on the selection of players in their natural environment and utilizing the coaching staff of their respective clubs to recommend players that demonstrate the ability to be scouted for US National Team Programs," commented Super Y-League Technical Director, Peter Vermes.
The top players in the Super Y-League named to the ODP Divisional teams will go through a series of matches and tests at the National ODP Camp, which will be scoured by the US Soccer National Coaching Staff.
The National ODP Camp will also allow select college and university coaches to attend the event to evaluate players for the collegiate level.
"The times have changed with youth soccer. The landscape is evolving to include programs that are raising the level of the game in the U.S.," mentioned Super Y-League Director, Matt Weibe. "The Super Y-League is essential to best serve the top players, preparing them for the highest levels of the game and have through the league's ODP system to have them properly identified for U.S. National Team Programs."
The SYL began its player selection camps in January of 2004 and has worked on developing this new system for player identification in the United States over the past year.
The Super Y-League, a North American youth soccer league for elite level players, began year six in 2004 in an effort to help U.S. Soccer in its quest to put a bead on the top youth players who are best bets to play on the professional level and, possibly, become members of the U.S. National Team. The SYL was granted Olympic Development (ODP) status in August of 2002.
Through the SYL's ODP system, players are identified for U.S. National Team Programs through an internal national scouting network that will select players for Regional Teams through league play and the league's finals.
This identification system provides an alternative for elite level players that excel in their natural club environment. The Super Y-League has recognized the club soccer system in the United States as being the major development platform for elite level players.
"These players were selected by the Super Y-League's independent national scouting network while playing with our SYL teams this year. In each Super Y-League game, I believe all of our teams and all of our players faced some of the best young soccer talent that the East Coast had to offer. These fourteen players met that challenge head-on every game and were rewarded for their hard work and effort. We wish all of them and Coach Carroll success in Florida" said Walt Konopka, Director of the Jersey Shore Boca Men's Under-23 Program and member of the club's Board of Directors.
Jersey Shore Boca has been a fixture in the soccer community since 1978 and is one of the most respected soccer clubs on the East Coast. The club is celebrated its 25-year anniversary in 2003.
The club competed in the United Soccer Leagues elite Super Y-League for the fourth straight year in 2004 fielding a record six SYL teams, the most ever in Boca's SYL history.
Boca's 2004 U-15 Super Y-League team whose roster included Bove, Ciocco, Kroh, Melfi and Scalici, finished in first place in the U-15 Mid-Atlantic Division with a record of 11-1-1 and earned a trip to the SYL National Championships in November.
Jersey Shore Boca is the only soccer club from Monmouth or Ocean County (NJ) that has been a member of the Super Y-League the last four years.
For more information about Jersey Shore Boca visit the club's official website at: http://www.jerseyshoreboca.com
DETAILS OF BOCA PLAYERS NAMED TO SYL REGIOANL TEAMS:
Name, Hometown, Position, SYL Mid-Atlantic Regional Team
Andrew Finger, South Harrison, NJ, Midfielder, U19 (*)
Damon Wilson, Mullica Hill, NJ, Forward, U19
Kyle Altenau, West Long Branch, NJ, Defender, U16
Varlee Koon, Hamilton, NJ, Midfielder, U16 (*)
Jamal Neptune, East Windsor, NJ, Defender, U16
Stanley Touze, Hamilton, NJ, Forward, U16
Zachary Bove, Philadelphia, PA, Midfielder, U15
Nicholas Ciocco, Sewell, NJ, Midfielder, U15
Andrew Kroh, Mt. Laurel, NJ Midfielder, U15
Kevin Melfi, Medford, NJ, Forward, U15
Vincent Scalici, Burlington, NJ, Defender, U15
Thomas Carroll, Middletown, NJ, Midfielder, U14
Shane Ferguson, Pt. Pleasant Beach, NJ Defender, U14
Steve Torre, Lacey Twp, NJ Midfielder, U14
(*) – Indicates two year member of SYL ODP Divisional Teams
news