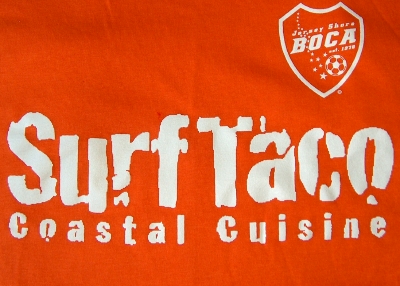 The Jersey Shore Boca Soccer Club announced today that Surf Taco, a popular shore area restaurant chain, has renewed their Official Sponsorship of Boca's U23 men's summer soccer program for 2006 for the second consecutive year.
Surf Taco Renews Partnership with Boca U23 Men's Summer Program
Popular shore area restaurant chain delighted to help support Club again in 2006
TOMS RIVER, NJ (April 23, 2006) – The Jersey Shore Boca Soccer Club announced today that Surf Taco, a popular shore area casual Mexican-themed restaurant chain, has renewed their Official Sponsorship of Boca's U23 men's summer soccer program for 2006 for the second consecutive year.
Under the terms of the agreement, Boca and Surf Taco will continue to jointly promote their products, services and organizations via various means including electronic and print media, brand recognition, special events and direct marketing efforts among other sources.
Owner Rob Nagel with the help of General Manager Shaun Graul opened the first Surf Taco location on Route 35 South in Point Pleasant Beach Memorial Day weekend in 2001 and a second location on Parker Avenue in Manasquan in July 2004. Last summer, Surf Taco expanded to Seaside Park with a third location on Central Avenue.
Plans are also in the works to open a fourth and fifth Surf Taco location in Silverton (Toms River) and Belmar this summer.
Graul is a former long-time member of the Jersey Shore Boca Soccer Club and one of the best goalkeepers ever to come out of the jersey shore area. The 1989 Toms River High School East graduate played his collegiate soccer at Kean University and then continued his career professionally with the NJ Stallions of the United Soccer Leagues before retiring from the sport a few years back.
"Everyone at Surf Taco is very excited and pleased to renew our support of the Jersey Shore Boca under 23 men's soccer program and give back to the community. We look forward to working again with such an outstanding organization for a second straight year. In addition, I'm personally thrilled we are able to continue to help the soccer club that I grew-up with. We wish all of the team members, staff and coaches the best of success this summer" mentioned Graul.
Surf Taco offers a large selection of healthy and specialty foods normally seen in Mexico, Costa Rica and California. The menu features dishes such as quesadillas, tacos and burritos, as well as different wraps and salads.
The trademark of the restaurant chain includes a casual interior décor, dress code of flip-flops and tee-shirts, massive pictures of surfers catching monstrous waves that hang on the colorful walls and surfing videos that play through-out the day.
"We are extremely delighted to partner with Surf Taco again in 2006. Their ever increasingly popularity here at the jersey shore is growing tremendously as they rapidly become a jersey shore landmark. Great food and great summer soccer….what a perfect combination" mentioned Walt Konopka, a member of the Jersey Shore Boca Board of Directors who also runs the Boca U23 summer program.
The Jersey Shore Boca Soccer Club has been a fixture in the soccer community since 1978 and is one of the most respected soccer clubs on the East Coast.
The Club is celebrating their 28-year anniversary in 2006.
Last summer the Jersey Shore Boca U23 men's program finished as one of the most successful summer programs in the history of the Club. Two Boca teams, U23s and U20s, played a total of 43 games during 2005, had 45 players on their combined rosters, competed in the USASA Regional Championship Tournament and MSSL Cup while playing their second year as one of the founding members of the Mid-Atlantic Summer Showcase League (MSSL).
Again in 2006, Jersey Shore Boca will participate as one of the founding members in MSSL which will kick-off the first week-end in June.
"The folks at Surf Taco have a great vision and have worked very hard to get to where they are today. These traits are very similar to what we have been portraying to our players in our soccer Club for the past 28 years. This renewed partnership could not have been made any better. I look forward to heading over there after each of our home games this summer. The food is just fantastic" added Konopka.
For more information about Surf Taco including their locations, menu and special events, visit the restaurant's official web site at www.surftaco.com
For more information about the Boca U23 program and all other the Jersey Shore Boca programs visit the Club's official web site at www.jerseyshoreboca.com
news