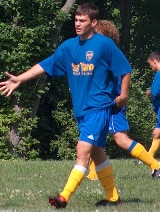 With the 2006 men's college soccer season underway for three weeks now, several members of the Boca U23 team from this summer are competing well for their respective college teams and some, including Justin McGrath, are making impressive starts in helping their BIG EAST schools open conference play.
Three Weeks In
Several Boca U23 standouts doing well three weeks into the 2006 college soccer season
McGrath, Hawtin, Konopka and Niziolek impressive as BIG EAST games start
TOMS RIVER, NJ (September 10, 2006) – With the 2006 NCAA college soccer season underway for three weeks, several Jersey Shore Boca standouts are competing well for their respective college teams with some making a very impressive start in helping their BIG EAST schools open conference play.
Justin McGrath (Brick) a junior at Seton Hall University, Andrew Hawtin (Toms River) a senior at Syracuse University, Chris Konopka (Toms River) a senior at Providence College and Teddy Niziolek (Clifton) a senior also at Seton Hall have all played in every game for their BIG EAST school thus far during the 2006 season.
McGrath, a 2004 Monsignor Donovan graduate and Niziolek, a Clifton 2003 grad, have started every game for Seton Hall this season. They helped the Pirates a 4-2-0 record after three weeks including wins over St. John's (3-2) and Syracuse (2-1) in the opening weekend of BIG EAST play.
Hawtin is part of a Syracuse team that is currently 3-2-0 after the third week of the season. The skillful stopper-back and 2003 Toms River East graduate has played in all five games for the Orangemen while starting four and has taken 2 shots.
Konopka, another 2003 Toms River East graduate, has back-stopped Providence to an overall 4-1-0 record allowing only 4 goals in 450 minutes between the pipes while recording two shut-outs.
This past weekend the standout keeper posted wins over Villanova (3-1) and Rutgers (2-0) to lead the Friars to their best BIG EAST start (2-0-0) in school history and their first win ever against the Scarlet Knights.
Konopka and Providence travel to face Hawtin and Syracuse Thursday night, September 14th for a 7:00pm start under the lights at the Syracuse Soccer Complex.
McGrath, Hawtin, Konopka and Niziolek were members of the Boca U23 team this past summer that advanced to the semi-finals of the USASA U23 Regional Championship as well as the semi-finals of the MSSL Cup Championship.
Other Boca U23 team members from this past summer who are making contributions to their respective college teams during the first three weeks of the 2006 men's college soccer season include:
Sophomore midfielder Mark Schmiegel (Toms River) who started all 6 games for Bucknell University (4-1-1) while tallying one assist;
Junior forward Andrew Perez (Brick) who has started in all 5 games at LaSalle University (2-3-0);
Junior midfielder Andy Fraggos (Marlboro) has played in 4 of 5 games at Towson University (3-1-1);
Junior defender Danny Haydu (Toms River) has played in 2 games for Monmouth University (3-2-0):
Sophomore midfielder Mike Juska (Wall Township) has started in all six games for Rider University (3-2-1) scoring four goals and dishing out one assist;
Senior midfielder George Gkionis (Jackson), senior defender Brandon Schaefer (Albuquerque, NM) and junior midfielder Versh Tivzenda (Marietta, GA) have all helped Stevens Institute of Technology to a 4-0 start and #12 DIII national ranking by the National Soccer Coaches Association of America.
Jersey Shore Boca has over fifty club standouts who previously played for Boca on either their Men's, Super Y-League, PDL, Club or Youth teams that are participating in NCAA intercollegiate soccer this fall for their respective institutions either as players or coaches.
Jersey Shore Boca has been a fixture in the soccer community since 1978 and is one of the most respected soccer clubs on the East Coast.
The Club is celebrating their 28-year anniversary in 2006.
For more information on the Jersey Shore Boca Soccer Club, visit the Club's official web site at www.jerseyshoreboca.com
news