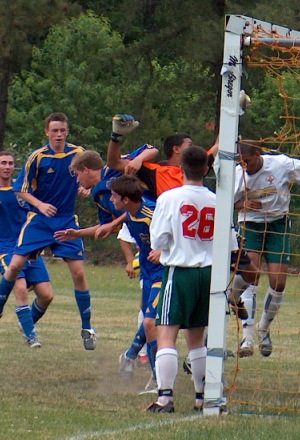 The Jersey Shore Boca U19 Super Y-League team opened their 2005 SYL season on Saturday afternoon at the Manchester Soccer Complex as they squared-off against the Ironbound Sports Club from North Jersey in a U19 Northeast Conference Metro Division match-up.
U19s Drop Tough Super Y-League Opener
Team play well but misses scoring opportunities
MANCHESTER TWP, NJ (June 18, 2005) – The Jersey Shore Boca U19 Super Y-League team opened their 2005 SYL season on Saturday afternoon at the Manchester Soccer Complex as they squared-off against the Ironbound Sports Club from North Jersey in a U19 Northeast Conference Metro Division match-up.
During the first fifteen minutes of the match, the Boca U19s were pressured by Ironbound but the Boca defenders stood firm to the challenge and did not yield any goals.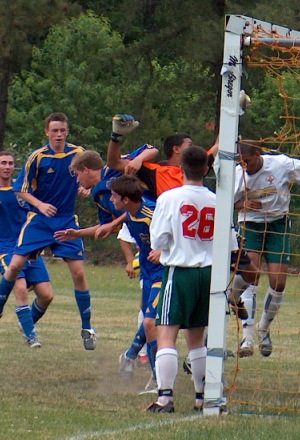 Members of the Boca U19 SYL team crash the goal against Ironbound on a corner kick in the second half of their 2005 Super Y-League season opener.
Boca then settled down and began to apply some pressure of their own mid-way through the first half resulting in two solid scoring opportunities which the U19s could not capitalize on.
With approximately 15 minutes left in the half, Ironbound tallied the first goal of the game after a miscue from the Boca back line which proved to be the eventual game winner.
The second half began with the same intensity as the first from both sides as Ironbound and Boca tested each other on numerous occasions from the onset.
Ironbound stuck again mid-way through on a solid strike from about fifteen yards out.
The Boca U19s continued to battle as they had another solid scoring opportunity during the 70th minute off a corner-kick but could not put the ball in the back of the net.
Late in the match while Boca was pushing-up on the attack, Ironbound finished the scoring to make the final 3-0.
Ironbound improves to 4-1-0 and remains in first place in the U19 Metro Division while Boca falls to 0-1-0.
The Boca U19s continue their Super Y-League season on Wednesday night when they travel to Fordham University to take on the powerful Storm Academy.
Jersey Shore Boca has five boys teams in the SYL this year; U13s, U14s, U15s, U16s along with the U19s.
All of Boca's 2005 SYL teams, with the exceptions of the U-19 team, will compete in the historically tough Mid-Atlantic Division in the Northeast Conference.
Boca has been a fixture in the soccer community since 1978 and is one of the most respected soccer clubs on the East Coast.
The Club is celebrating their 27-year anniversary in 2005.
For more information about the Boca U19 team and all other the Jersey Shore Boca programs visit the Club's official web site at www.jerseyshoreboca.com

news