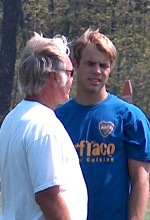 With the beginning of the 2008 Mid-Atlantic Summer Showcase League rapidly approaching, the Jersey Shore Boca U23 men's team has announced two final dates for tryouts and one for a pre-season mini-camp for players who are interested in joining the squad this summer as they begin to finalize their roster and prepare for their fifth year of competition in MSSL.
U23 Men Set Dates For Tryouts and Camp
Team finalizing roster spots for MSSL summer season
LAKEWOOD, NJ (April 10, 2008) – With the beginning of the 2008 Mid-Atlantic Summer Showcase League (MSSL) rapidly approaching, the Jersey Shore Boca U23 men's team has announced the dates of their final tryouts and pre-season mini-camp as they prepare for their fifth year of summer competition in MSSL.
The U23 men will hold final tryouts on Saturday May 3 and also on Saturday May 10 at the John Patrick Sports Complex in Lakewood, NJ from 1pm to 3pm each day followed by a one day pre-season mini-camp on Saturday May 24 starting at 10am at the same location.
Former Neumann College (PA) assistant men's soccer coach Wolfgang Finger returns for his second year in charge of the Boca U23 men's team assisted by Philadelphia native and National Soccer Hall of Fame member Alex Ely who has 37 years of coaching experience including stints with numerous college and professional clubs.
Ely also earned 4 international caps as a player for the US Men's National Team during World Cup qualifying matches in the 1960's and was indicted into the National Soccer Hall Of Fame in 1997.
Coach Finger will also be assisted by NJ native and goalkeeping guru Chris Vaccarro who will help with the Boca keepers.
All players interested in attending should contact Coach Finger at 856-478-6738 or email Coach at fingersoccer@aol.com and provide a background of playing experience and references.
Boca will participate for the fifth consecutive year as one of the inaugural founding members of MSSL, a regional summer soccer league, which is specifically designed for collegiate players under the age of twenty-three and is fully sanctioned by the United States Adult Soccer Association (USASA), the national governing body for adult amateur soccer.
The 2008 MSSL season begins on Sunday June 1st.
Although finishing with an overall record of just 5-5-6 during their 2007 campaign, the Boca U23 men had their share of team and individual accomplishments last season.
The team scored a league-leading 32 goals, allowed 26 against them and recorded 4 shut-outs while ending the regular MSSL season in fourth place within a division of fourteen teams.
The highlights last season also included being invited to participate in the USASA U23 Regional Tournament for a second consecutive year; a scoreless tie against national powerhouse FC Delco (PA) on July 14 while at the USASA tournament and advancing to the men's MSSL Cup Championship game on July 22 at Ft. Dix for the first time since the team began play within the league four years ago.
All college age players and high school seniors who are born on or after August 1, 1984, are eligible to participate on the Boca summer teams provided they have not signed a professional contract with the US Soccer Federation.
Boca's MSSL home league games for 2008 will be played at the John Patrick Sports Complex in Lakewood.
The Jersey Shore Boca summer soccer program is officially sponsored by Surf Taco, a popular Mexican themed restaurant chain with locations throughout the jersey shore.
Boca has been a fixture in the soccer community since 1978 and is one of the most respected soccer clubs on the East Coast.
The Club is celebrating their 30-year anniversary in 2008.
For more information about the Boca U23 teams and all other the Jersey Shore Boca programs logon to the Club's official web site at www.jerseyshoreboca.com
news