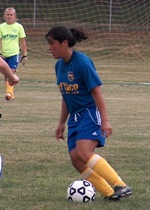 The Jersey Shore Boca U23 women's team will make their second consecutive appearance in the United States Adult Soccer Association U23 Regional Championships this weekend as they again take their place among the elite teams of the northeast when they travel to the Ukrainian American Sports Center in Horsham, PA for the two day event.
Boca U23 Women Riding High Into USASA Championships
Team makes second consecutive appearance in elite regional tournament
LAKEWOOD, NJ (July 10, 2008) – The Jersey Shore Boca U23 women's team will make their second consecutive appearance in the United States Adult Soccer Association (USASA) U23 Regional Championships this weekend as they again take their place among the elite teams of the northeast when they travel to the Ukrainian American Sports Center in Horsham, PA for the two day event.
Boca is one of twelve U23 women's teams invited to participate in this year's Regional Championships with the winner heading to Seattle, WA from August 7th through 10th and a spot in the U23 USASA National Championships.
The U23 Boca women will face the Middlepath Jaguars (NY) at 2:30pm and then take on the Holmdel Stillettos (NJ) at 5:30pm.
Other U23 women's teams participating in this year's regional field include the NJ Power (NJ), Bethesda SC (MD) last year's Regional Tournament champion and the Delaware U23 Select Team from Dover (DE) which are among the favorites.
The Regional semi-finals will take place on Sunday, July 13 at 10:00am and the finals will kick-off at 2:00pm the same day.
The Boca U23 women are in the middle of their second season together and participate in the Mid-Atlantic Summer Showcase League (MSSL).
Boca currently sits in first place in the U23 MSSL women's division with a record of 6-1-3 through games of Sunday July 6th.
The team has scored a league leading 27 goals while only allowing 13.
The Boca U23 women will be seeking some payback against Middlepath in their first game of the regional tournament in Horsham.
The Boca women advanced to the MSSL Cup Championships last year in their first season together only to be handed a tough 1-0 loss by the Jaguars.
The team is coached by long-time local soccer advocate Charles Cunliffe of Lakewood.
Jersey Shore Boca is participating in MSSL for the fifth consecutive year this summer as one of the league's inaugural founding members.
MSSL is a regional summer soccer league, which is specifically designed for collegiate players under the age of twenty-three and is fully sanctioned by the USASA.
The Jersey Shore Boca summer soccer program is officially sponsored by Surf Taco, a popular Mexican themed restaurant chain with seven locations throughout the jersey shore.
Boca has been a fixture in the soccer community since 1978 and is one of the most respected soccer clubs on the East Coast.
The Club is celebrating their 30-year anniversary in 2008.
For more information about the Boca U23 teams and all other the Jersey Shore Boca programs logon to the Club's official web site at www.jerseyshoreboca.com
news