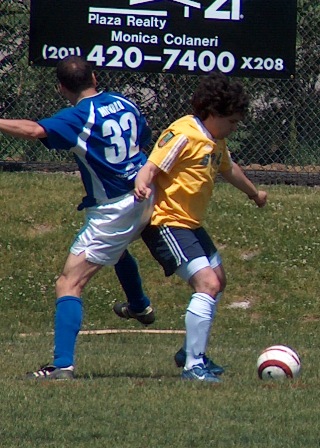 The Jersey Shore Boca U23 and U20 teams headed to North Jersey over Memorial Day weekend and faced the men's open team from Secaucus FC on Sunday morning at Shetik Memorial Field in their final exhibition game before both Boca teams begin their 2005 summer season next weekend in the Mid-Atlantic Summer Showcase League
U23s and U20s Top Secaucus FC In Full Friendly Match
Final exhibition game helps teams fine tune roster spots as 2005 summer season begins next weekend
SECAUCUS, NJ (May 29, 2005) – The Jersey Shore Boca U23 and U20 teams headed to North Jersey over Memorial Day weekend and faced the men's open team from Secaucus FC on Sunday morning at Shetik Memorial Field in their final exhibition game before both Boca teams begin their 2005 summer season next weekend in the Mid-Atlantic Summer Showcase League.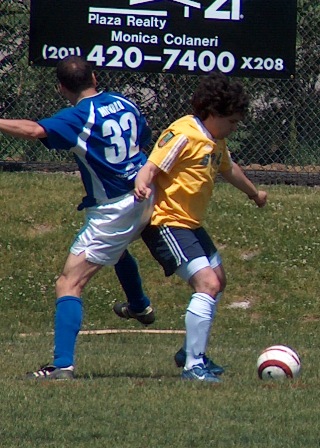 Javier Zuniga of the Boca U23s wins a ball from a Secaucus FC defender. The combined Boca U23 and U20 teams bested Secaucus 7-3 in a friendly match on Sunday.
The Boca U23s started the match and played the first forty-five minutes. After Secaucus got the first tally approximately five minutes into the half, Boca's Justin Fuccello buried the equalizer three minutes thereafter for Boca's first goal of seven on the day.
Boca scored three more times before the half ended and Secaucus converted on a penalty-kick to make the score 4-2 at the break.
The U20s took the pitch for the next forty-five and started the scoring first as Boca's Yusuf Qasim found Christian Pontier inside the box at about four minutes into the second half. Pontier ripped a blast past the Secaucus keeper to make the score 5-2.
Secaucus, which plays their league ball in the Northeast Division of the Garden State Soccer League, got on the scoreboard mid-way through the second forty-five on a perfectly placed, upper-ninety free-kick from 25 yards out. Boca scored twice again before the half ended to make the final 7-3.
Since January, both Boca teams have been identifying players and trying to solidify their rosters for the summer. The 2005 MSSL Summer season will kick-off next week-end at Ft. Dix for both teams.
The Mid-Atlantic Summer Showcase League is a second year regional soccer league fostering high-level competition during the summer months at both the youth and adult ages in which Jersey Shore Boca was an inaugural member last year.
The adult level of MSSL is specifically designed for collegiate players under the age of twenty-three and is fully sanctioned by the United States Adult Soccer Association (USASA), the national governing body for adult amateur soccer.
Because of the league's regional affiliation with the USASA, MSSL is awarded wild-card entries by the USASA into their annual Under-23 and Under-20 Regional Championships.
Boca men's summer soccer program is officially sponsored by Surf Taco, a popular Mexican themed restaurant chain based in Point Pleasant.
Jersey Shore Boca has been a fixture in the soccer community since 1978 and is one of the most respected soccer clubs on the East Coast.
The Club is celebrating their 27-year anniversary in 2005.
For more information about the Boca U23 and U20 teams and all other the Jersey Shore Boca programs visit the Club's official web site at www.jerseyshoreboca.com
news