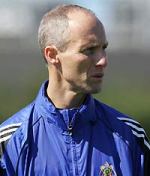 USSF President Sunil Gulati has named NJ native Bob Bradley as Interim Head Coach of the USMNT and Head Coach of the U.S. Under-23 MNT. Bradley will take control of the team immediately and begin preparing for a 2007 schedule that will include an initial training camp for the USA in January and appearances in both the Gold Cup and Copa America.
US Soccer Tabs New Jersey Native
Bob Bradley Named Interim Head Coach of U.S. MNT and Head Coach of U.S. Under-23 MNT
CHICAGO (Friday, Dec. 8, 2006) – U.S. Soccer President Sunil Gulati has named Bob Bradley as Interim Head Coach of the U.S. Men's National Team and Head Coach of the U.S. Under-23 Men's National Team. Bradley will take control of the team immediately and begin preparing for a 2007 schedule that will include an initial training camp for the USA in January and appearances this summer in both the CONCACAF Gold Cup and the CONMEBOL Copa America.
Bradley, 48, spent 2006 as head coach of Chivas USA in Major League Soccer, where he was honored as the league's Coach of the Year for the second time in his career. During his one season at Chivas USA, Bradley turned around a team with the worst record in the league in 2005, leading them into the playoffs as the third-place finisher in the Western Conference.
Bradley has previously been on the U.S. National Team coaching staff as an assistant with the Under-23 Men's National Team at the 1996 Olympics and also assisted at several winter training camps and games during Bruce Arena's tenure as Manager of the U.S. MNT.
"Bob Bradley's record of success in MLS and in the development of American players gives us great confidence in his ability to begin the process of preparing the U.S. National Team for its next four-year programming cycle," said Gulati in making the announcement. "Those unique traits will also serve him extraordinarily well in our Olympic Team effort as we build towards China in 2008."
With 124 career victories, Bradley is the winningest coach in the history of MLS, winning one MLS Cup and two U.S. Open Cup titles with the Chicago Fire, including The Double in 1998 during the club's inaugural season. During his 12-year MLS career as a head or an assistant coach, Bradley's team's qualified for the playoffs every year.
"Obviously to be chosen to lead this team at this time is a great honor," said Bradley. "So many people in this country put their heart and soul into this game at every level of the sport, whether it be coaching or playing or administratively or as a fan; people that would give up a lot to have an opportunity like this one. I am very proud to have a chance to lead the U.S. National Team, and I am also proud to be following Bruce Arena in this role after the success he was able to achieve. I feel quite strongly about the quality of our program, and I am confident that we will we put a team on the field that will get the job done"
Bradley will serve as the 34th coach for the U.S. Men's National Team, which began play in 1916. Bradley is the second head coach of the U.S. MNT to begin his professional coaching career in Major League Soccer.
The U.S. Men's National Team's upcoming schedule includes the 2007 CONCACAF Gold Cup beginning June 6 and Copa America beginning June 26. The year begins in early January with a training camp at The Home Depot Center in Carson, Calif., with the first international match of the year scheduled for January 20, 2007, against Denmark at The Home Depot Center live on ESPN2 at 1:50 p.m. PT.
As head coach of the U.S. Under-23 Men's National Team, Bradley will be responsible for preparing the U.S. team for Olympic Qualifying for the 2008 Beijing games.
A 1980 graduate of Princeton University (where he led the Tigers in scoring his senior year while completing his B.A. in History), Bradley assumed his first head coaching job at age 22, leading the Ohio University men's soccer program (1981) while finishing his M.A. in Sports Administration at the school. Hired in 1983 by Bruce Arena to serve as his assistant at Virginia University (1983-1984), in 1984 Bradley returned to Princeton, where in twelve seasons (1984-1995) he led his alma mater to two Ivy League titles (1988, 1993) and Princeton's only NCAA Final Four berth to date (1993).
Born on March 3, 1958, in Montclair, New Jersey, Bradley is married to Lindsay Bradley and has three children: Ryan, Kerry, and Michael. In his third year as a professional soccer player, Michael currently plays for SC Heerenveen of the Dutch Eredivisie and is a member of the U.S. Under-20 National Team. Bob's brother Scott played for the New York Yankees, Chicago White Sox, Seattle Mariners and Cincinnati Reds of Major League Baseball, and is currently the Princeton baseball coach, while his brother Jeff is a senior writer for ESPN The Magazine.
news