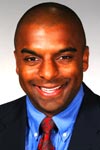 Jersey Shore Boca alumni Marlon LeBlanc who played under Boca Coach Dave Ellis and was a member of the NJ State Cup Champion Boca U17 team, was appointed head men's soccer coach at West Virginia on August 9th. Prior to joining the Mountaineers, the Boca standout was an assistant at Penn State for several years.
West Virginia Tabs Boca Alum LeBlanc
Standout was a member of Boca's U17 State Cup Championship Team
From MSNsportsNET.com
August 9, 2006
MORGANTOWN, W.Va. – West Virginia University athletic director Ed Pastilong today announced former Penn State assistant Marlon LeBlanc will take over as the new Mountaineer head men's soccer coach. LeBlanc will begin immediately.
"Our search committee and players feel LeBlanc is an excellent choice to continue the success of our men's soccer program," says Pastilong. "He has coached in a conference and national championship setting which is important to us at WVU."
LeBlanc comes to WVU from the Nittany Lions where he played beginning in 1994, before serving as the first assistant from 2001-05. His duties included serving as the recruiting coordinator, assistant director and coordinator for Penn State soccer camps, video analysis and coordination of game day operations and community outreach.
While coaching for Penn State he helped the team to NCAA tournament bids in four out of the last five seasons including round of 16 appearances in 2001 and 2005.
LeBlanc also guided PSU to Big 10 championships in 2002 and 2005.
Penn State ended the 2005 season ranked No. 10 by the National Soccer Coaches Association of America (NSCAA).
The East Windsor, N.J., native holds national, advanced national and premier coaching diplomas with a "Distinguished Pass" from the NSCAA. In 2005, LeBlanc served as a clinician at the NSCAA national convention and was invited to be a NSCAA staff instructor in 2006. He is also a member of the Black Soccer Coaches Association of America (BSCAA) and the Black Coaches Association.
"I feel very honored and privileged to be named head coach at West Virginia University," says LeBlanc. "I am very excited to get started and help continue the team's success that it has enjoyed over the past few seasons."
Before joining the Penn State coaching staff, LeBlanc graduated with a Bachelor of Arts degree in economics from Penn State in 2000. His playing experience includes being a four-year starter at Hightstown High School in New Jersey, where he received such accolades as all-state, all-area and all-county.
LeBlanc was also the captain of the New Jersey Olympic Development teams from U-13 to U-17 and a member of the Region 1 ODP team. He was a member of the Jersey Shore BOCA when it captured the U-17 New Jersey state club championship.
LeBlanc also holds a National Soccer Coaches Association of America (NSCAA) Advanced National Diploma.
Originally from East Windsor, N.J., LeBlanc was married in May of 2002, and now resides in State College with his wife, Jennifer, a 1998 graduate of Penn State.
news