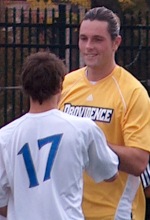 Jersey Shore Boca veterans and shore area natives Justin McGrath (#17) and Chris Konopka wish each other luck before the start their BIG EAST men's soccer game against each other as Seton Hall University hosted Providence College on Wednesday afternoon at NJIT in Newark with home field post-season playoff implications on the line.
Who Says You Can't Go Home
Konopka leads Providence over McGrath, Niziolek and Seton Hall in BIG EAST men's soccer action
NEWARK, NJ (October 18, 2006) – Three Jersey Shore Boca standouts squared-off against each other Wednesday afternoon in a BIG EAST regular season men's soccer match at Lubetkin Field on the campus of NJIT as Justin McGrath (Brick), Teddy Niziolek (Clifton) and the Seton Hall Pirates dropped a tough 1-0 decision to visiting Chris Konopka (Toms River) and the Providence College Friars with BIG EAST home field post-season playoff implications at stake.
McGrath, Konopka and Niziolek were all members of the Boca U23 team this past summer that advanced to the semi-finals of the USASA U23 Regional Championship as well as the semi-finals of the MSSL Cup Championship.
From the outset of the match, McGrath and Niziolek pressed the Pirate attack and got behind Providence's defense for some early chances, but a couple shots wide of goal and some notable saves between the pipes by Konopka kept the score level.
The Friars scored the lone goal in the 22nd minute when Seton Hall failed to clear a corner kick and Michael Narciso (Livingston, NJ) slipped a pass to Alex Bury (Shrewsbury, MA) who sent a shot into the upper right corner from 25 yards out for the eventual game-winner.
Seton Hall's first clear chance came in the 51st minute when Niziolek weaved his way through traffic in the box and put a shot to the near post that Konopka tipped out of danger before being cleared by the Friar defense.
Just over a minute later, Niziolek sprung Eliseo Giusfredi (Paterson, N.J.) free with a long through ball which also was thwarted by Konopka and the Providence defenders.
In the second half the Pirates were unable to capitalize despite holding an overwhelming 13 to 0 advantage in shots in the period and 19 to 4 overall.
McGrath, a 2004 Monsignor Donovan graduate, finished the match with one shot while Niziolek, a 2003 Clifton High School alum, fired off a team high six as Seton Hall falls to 8-7-1 (6-4-0 in the BIG EAST).
Providence, which improves to 11-4-0 (7-3-0 in the BIG EAST) and is enjoying their best season since 1984, is now guaranteed at a minimum, to host their first ever BIG EAST tournament game when the 2006 league men's soccer championships begin next week.
Konopka, a 2003 Toms River East graduate, made four saves on the afternoon to pick up his fifth shut-out of the season and establish a new Friar record with his seventh BIG EAST regular season win, the most ever in Providence men's soccer history.
The Toms River native who has played in all but one game for Providence this year, has allowed only 13 goals and currently holds a .920 GAA and 79.4% save percentage.
McGrath, Niziolek and Konopka play their final regular season games of the year this Saturday October 21st as Seton Hall hosts Pittsburgh at 1pm at NJIT while Providence entertains the No. 4 team in the country, West Virginia, also at 1pm in Providence.
West Virginia is coached by Jersey Shore Boca alumni Marlon LeBlanc, who played on the two-time Boca NJ State Cup Championship teams in the 1990s.
Jersey Shore Boca has over fifty club standouts who previously played for Boca on either their Men's, Super Y-League, PDL, Club or Youth teams that are participating in NCAA intercollegiate soccer this fall for their respective institutions either as players or coaches.
Jersey Shore Boca has been a fixture in the soccer community since 1978 and is one of the most respected soccer clubs on the East Coast.
The Club is celebrating their 28-year anniversary in 2006.
For more information on the Jersey Shore Boca Soccer Club, visit the Club's official web site at www.jerseyshoreboca.com
news