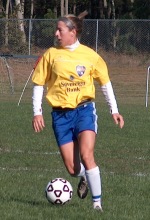 Kristen Kowit and the Jersey Shore Boca women's open team will look to get back into form when they resume their 2009-2010 Garden State Soccer League season in March as Boca plays host to Real Wyckoff at the John Patrick Sports Complex in Lakewood. The Boca women also have a semi-final Women's Open Cup date on their schedule which looks to be an exciting finish to this year's campaign.
Women's Open Team Prepares For Spring
Team seeks to regain form and push into top of division
LAKEWOOD, NJ (February 19, 2010) – The Jersey Shore Boca women's open team will have their work cut-out for them during the second half of the 2009-2010 season as the Garden State Soccer League winter break closes and spring play begins next month.
Heading into the first round of league play after the break, the Boca women hold an overall league record of 2 wins, 2 ties and 5 losses in the GSSL Women's Premiere Division which places them in seventh place in the standings with 8 points.
The Peninsula Aztecs sit on top of the division with 16 points.
The Boca women have scored 16 goals during the current league stint to date while allowing 28.
Katie Batiuk, a former Jackson Memorial and Rutgers University standout leads the Boca women in scoring with 5 goals while former Rider University and Jackson Memorial midfielder Sarah Artale has tallied 4 on the season.
The Boca women will resume their 2009-2010 season at home on Sunday March 28 as they host Real Wyckoff at the John Patrick Sports Complex in Lakewood.
In Women's Open Cup action, Boca toppled the Philadelphia Flames 5-2 last Fall advancing them into the semi-final round which will be played in May against the NJ Lions.
Kristen Kowit, a two-time All-American and two-time ODAC "Player of the Year" during her college career at Lynchburg College, coaches the Boca women along with Bob DeStefano.
Jersey Shore Boca has been a fixture in the soccer community since 1978 and is one of the most respected soccer clubs on the East Coast.
The Club is celebrating their 32-year anniversary in 2010.
For more information on the Jersey Shore Boca Soccer Club visit the Club's official web site at www.jerseyshoreboca.com
news