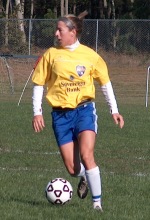 GSSL scoring champion Kristen Kowit and the Jersey Shore Boca women's open team completed their inaugural season together at the end of June and have set the standard for the future. The Boca women finished with a very respectable overall record of 11-2-5 for the 2007-2008 season including semi-final appearances in both the NJ State Open Cup and the GSSL League Cup.
Women's Open Team Completes First Season Together
Kowit crowned division scoring leader
LAKEWOOD, NJ (July 11, 2008) – The Jersey Shore Boca women's open team completed their inaugural season together at the end of June and have set the standard for the future as the team finished with a very respectable overall record of 11-2-5 including semi-final appearances in both the NJ State Open Cup and the Garden State Soccer League (GSSL) League Cup.
The Boca women finished the 2007-2008 GSSL regular season in third place in the Women's A Division with a record of 9-2-3 and 29 overall points and tallied 49 goals while allowing only 23 in league play.
Boca's Kristen Kowit (Lakewood) who led the team in scoring was crowned the GSSL Women's A Division leading women's scorer with 16 goals on the season.
Kowit, a two-time All-American and two-time Old Dominion Athletic Conference "Player of the Year" during her college career at Lynchburg College, is also the head girls varsity soccer coach at Red Bank Catholic High School.
Nicole Laureigh (Lanoka Harbor), a former standout at Lacey Township High School and Ocean County College, finished second in scoring for the Boca women and seventh in the GSSL Women's A Division notching 7 goals during the season.
The Boca women also advanced to both the NJ State Open Cup Semi-finals and the GSSL League Cup Semi-finals during their first season together before losing in very competitive matches to Real Wyckoff and US Parma respectively.
The Boca women were guided by long-time shore area coach and trainer Bob DeStefano and were assisted by Kowit who doubled as a player-coach.
Jersey Shore Boca has been a fixture in the soccer community since 1978 and is one of the most respected soccer clubs on the East Coast.
The Club is celebrating their 30-year anniversary in 2008.
For more information on the Jersey Shore Boca Soccer Club visit the club's official web site at www.jerseyshoreboca.com
news