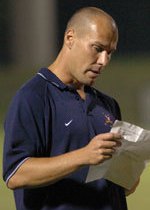 Four years ago, Jersey Shore Boca alumni and current Virginia men's head coach George Gelnovatch was an assistant for the United States World Cup team in Korea. Gelnovatch, a Wall High School graduate who played with Boca several years in the 1980s, took a few minutes to reminisce about his World Cup experience and to preview this year's tournament.
Previewing the World Cup with Boca Alumni George Gelnovatch
Former Club standout and current Virginia Head Coach was an assistant for the 2002 World Cup team
Reprinted in part from UVA Athletics
June 9, 2006
Four years ago, Jersey Shore Boca alumni and Virginia men's soccer coach was an assistant coach for the United States World Cup team in Korea. Now, as this year's World Cup gets set to start in Germany, took a few minutes to reminisce about his World Cup experience and preview this year's tournament.
Gelnovatch, a Wall High School graduate, played with Boca several years under current Boca U17 Head Coach Walt Pericciuoli.
Four years ago, you were an assistant coach for the United States team at the World Cup in Korea. What was that experience like?
One thing that stands out was the Portugal game. I have never been a part of a game, as a player or a coach, that was like the first 30 minutes of that game. Every player on the field, every player on the bench, the coaches, the support staff, everyone was fighting for each other with every ounce of energy. Usually there is some sort of distraction, which takes away at some level. But when we jumped out to that 2-0 lead, then 3-0 lead, that game brought us together as a team and defined that World Cup experience.
Did that win over Portugal help set the tone of the team and help it make a run to the quarterfinals?
Going into the Portugal game, most of us on the staff, thought if we could get a point, it would be big. That would put us in a position where a win against either South Korea or Poland would likely move us through. But when that game started, we took it to them. We went up 3-0, and it wasn't like it was on three fluky goals, or we scored on set pieces. We outplayed them. Even in the second half, we were there beating a team in Portugal that was one of the favorites to win the World Cup. We came together in that game and it gave us the confidence that we could play with anyone and that carried over to the rest of the tournament. The Mexico game in the second round was similar in that sense.
Other than the games, what was your favorite part of the World Cup experience four years ago?
There wasn't one favorite thing for me. For me it was the total experience, to be part of everything. One thing that does stick out was this. Before every game, usually the day before, there is a pre-match meeting. There are reps from both teams, and each team sends a coach, usually an assistant. Coach Arena asked me to go to those meetings. I remember sitting in on the first meeting, and there were about two dozen people there, us from U.S. Soccer, Portugal, FIFA representatives, and what seemed like millions of cameras. It was interesting to listen to the posturing that goes on in those meetings.
How do you feel this year's team will do?
I think the team is better. Every year of MLS helps the talent pool. We are developing players here and abroad. We aren't going to catch anyone off-guard this year, as we did four years ago. Looking at the group, I think it is the second toughest group. I think the Argentina-Netherlands-Ivory Coast-Serbia group is the toughest, and ours is a close second. But I genuinely feel we can advance from that group. There is a not team in our group (Czech Republic, Italy, Ghana) that we can't beat.
How do you feel the outlook of the team is this year compared to four years ago?
I am not around the team this time so I can only go by what Coach Arena has told me and what I have read in the media. They are very excited to do well this year. I know that four years ago, there was a genuine disappointment in losing to Germany. That was one of our better games. We played a total game, and for 90 minutes that was our best game. Even against Mexico, we were under siege for the first 30 minutes and against Portugal we had the great start. Against Germany, besides the one goal we allowed on a set piece, we had control of that game. The referee missed the hand ball on the goal line, and that changed the whole game. I know that a lot of the players want a chance to make up for that loss, and this is their chance to do that.
What do you think the US team is capable of during this tournament?
I think our team will not be happy just advancing, they want to win the group. Winning that group is key because it likely means not having to play Brazil in the round of 16. I think that the U.S. will come out of the gates strong and we will see that on Monday against the Czech Republic.
Are you going to Germany for any of the games?
I leave Thursday for Germany. I have tickets for U.S. games against Italy and Ghana.
How do you thing the atmosphere in Germany this year will compare to the atmosphere in Korea?
It was a great atmosphere in Korea, but it will be a lot different this year with the tournament in Europe. The World Cup in Germany will be two to three times more intense. Everyone is passionate about it. Europe is a popular place for a World Cup. It will add to the feel of the tournament. For the players, at every level, you can feel it.
Who do you think the tournament favorites are?
Obviously everyone is picking Brazil. But a team that nobody is talking about a lot, not really a darkhorse, but media hasn't said much about is France. They have some great players. They are a team that can do some damage. They had a bad start four years ago and didn't get out of their group. I think that will fuel them this year. Germany always plays well and they are at home, so they will be tough. The Italians always seem to find a way to advance. There are four African nations that could make some noise, including one in the U.S. group in Ghana that in their last 3 or 4 friendlies have been putting together some impressive wins. They have Michael Essien in the middle, who is one of my favorite players.
Reprinted in part from UVA Athletics
June 9, 2006
news